16 July 2009 Edition
11-year-old boy held by Scottish police for three hours as...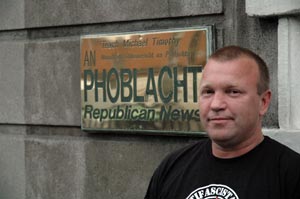 An Phoblacht manager arrested under PTA in Scotland
THE 11-YEAR-OLD son of An Phoblacht General Manager Michael 'Dixie' Dickson was held by Scottish police for three hours last Sunday, 12 July, while his father was arrested and questioned under the Prevention of Terrorism Act.
Dixie, a republican former prisoner who is well-known in Scotland and throughout mainland Europe for his anti-racist campaigning work, had been delivering the photo exhibition 'Women in Struggle' from the Republican Museum in Belfast to a Cáirde Sinn Féin event in Coatbridge, near Glasgow.
He was stopped by police at Stranraer ferryport on his way back to Belfast on Sunday morning, his van searched and then told he would not be catching his scheduled sailing. Dixie and his son were then paraded in police custody past several coachloads of loyalist bandsmen on their way to Belfast for Monday's Twelfth Orange Order parade.
Requests for a solicitor to be contacted were met with the reply that there would be 'no point' as legal advisors would not be allowed to sit in on the questioning. Calls for a family member to be notified of his detention to prevent them worrying, particularly as his young son was with him, were ignored.
The police officer who appeared to be in charge was number 232.

LAP-TOP SEIZED
Police said that his son could sit in another office with a police officer while he was being questioned but Dixie, naturally protective of his son, declined the offer but his son had to sit through his questioning. Dixie was asked a range of questions. These included his experience of being a prisoner, politics, personal information about friends and comrades, An Phoblacht, his views on the Peace Process, micro 'dissident' groups, friends living in Scotland and his own personal life. At no time was he asked about 'terrorist acts'.
After three hours of fruitless questioning, Dixie and his son were free to go but his lap-top was seized under the Terrorism Act 2000, which gives police the power to hold items for seven days for examination. A receipt was reluctantly issued by 232 after Dixie persisted.
Dixie and his son made the evening crossing, some seven hours after they were supposed to sail and with relatives and friends in Ireland unaware of what had happened to them in the intervening period.
Dixie is puzzled as to why he was detained this time.
"What is strange about being arrested last weekend is that I've been back and forward to Scotland numerous times to Sinn Féin and anti-racist events and made no secret of it but the only time I'm stopped is with my young son. Why did they pick us out this time?'
A formal complaint is being lodged with the police authorities in Scotland.