16 July 2009 Edition
INTERNATIONAL: Gerry Adams speaks at House of Commons on Irish unity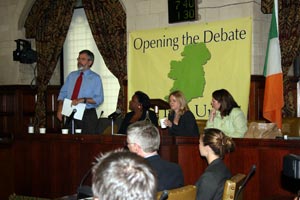 Opening the debate on Irish unity
BY SEÁN Ó FLOINN

TWENTY years ago, Gerry Adams's voice was banned from British airwaves and he was prohibited from travelling to Britain. On Tuesday evening, in Westminster Hall's Grand Committee Room in the British House of Commons, he delivered a keynote address emphasising that Irish unity not only makes social, political and economic sense but that it is also achievable, sooner rather than later.
At the meeting, chaired by British Labour MP Diane Abbott, Adams referred to the fact that it is not merely Sinn Féin who sees Irish reunification as desirable but that the vast majority of citizens in Ireland and almost all of the political parties support the goal of a united Ireland. The two most pertinent questions now are how and when?
This event, billed as 'Opening the Debate on Irish Unity', was in fact a reopening, and there was an announcement of a Sinn Féin conference to be held in London on Irish unity in February 2010, in the wake of two well-attended and hugely successful conferences in San Francisco and New York.
Gerry Adams said British policy toward Ireland is key to unlocking the potential for change to occur. Sinn Féin understands the potential power for change of the Irish diaspora across the globe and wants to mobilise it to advance the cause of Irish unity. One of the greatest concentrations of the Irish is in Britain. The Irish came to Britain in their hundreds of thousands following the Great Hunger in the mid 19th century and today the Irish in Britain have become an inextricable part of British society.
In 2001, there were 674,786 people in England (1.4 per cent of the population) who had been born in Ireland. This is the greatest concentration of Irish-born – as distinct from persons of Irish ancestry – outside of Ireland. In a London poll several years ago 11 per cent said that one or more of their parents were Irish. Nineteen per cent said that one or more of their grandparents were Irish.
"This means that in this city the Irish are by far the largest ethnic minority", Adams said.

UNIONISTS
While Adams acknowledged that a long, arduous yet rewarding road has been travelled along the Peace Process route, which has delivered an end to conflict, the underlying cause of conflict still exists, namely the British Government's claim to jurisdiction over the Six Counties in the North of Ireland and the subsequent denial of the Irish people's right to self-determination.
British Government involvement in Ireland has brought conflict, partition, discord, division and great hurt between the people of the islands of Ireland and Britain, he said. Sinn Féin are still demanding and working for the end of partition in Ireland, an end of the union between Ireland and Britain and the construction of a new republic that neither replicates the Six-County or 26-County states but one with equality at its core and based on the principles of the 1916 Proclamation. A republic that "declares the right of the people of Ireland to the ownership of Ireland, and to the unfettered control of Irish destinies, to be sovereign and indefeasible; a republic that guarantees religious and civil liberties, equal rights and opportunities to all its citizens; a republic that cherishes all of the children of the nation equally".

Adams said that unionists must be involved in a dialogue about the new republic we wish to create. He said that while unionists make-up a mere two per cent of the population under the current British system, they would represent 20 per cent in a new, united Ireland, and would correspondingly have much more representation.
The Sinn Féin President was forceful in his assertion that this conversation is not some "pie in the sky naive discussion" but instead is about breaking down the barriers to Irish independence, namely unionist reluctance and British Government intransigence. He stated that changing British Government policy, which has always been unionist "is key to unlocking the potential for this change to occur".

REALISTIC OBJECTIVE
While the Good Friday Agreement in itself is not a final resolution, it provides a legislative, peaceful and democratic route to achieving Irish reunification. The Sinn Féin president was adamant that uniting Ireland is a "realistic objective" that can be achieved "within a reasonable time scale". Adams referred to politics as the art of making the impossible possible and stated that "all political objectives are achievable".
He urged for a broader debate and discussion, involving trade unions, activists, progressive organisations and the larger Irish Diaspora throughout the world. We are now in the endgame of a centuries old revolutionary struggle.
Sinn Féin has recently set up a United Ireland Task Force, jointly headed by Donegal Senator Pearse Doherty and Assembly Minister for Regional Development Conor Murphy. They have a responsibility to roll out a series of events throughout every Irish county and to mainstream their work into every elected forum on the island of Ireland.
Adams acknowledged however that "Irish unity is bigger than Sinn Féin" and that the party does "not have a monopoly on this primary issue".
Three main challenges must be overcome, he said, in the quest for Irish freedom, namely getting the British Government to change its policy of upholding the Union to becoming a persuader for Irish unity; getting the Irish Government to begin preparations for Irish unity, and engaging with Ulster unionism on the type of Ireland we want to create.
This conference kicks off the beginning of a new phase of struggle, one with the end in sight.
INPUT: Michelle Gildernew addresses the Westminster meeting