16 July 2009 Edition
Riots follow Orangemen's insistence on marching through Ardoyne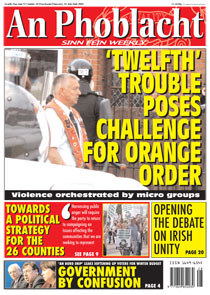 Adams calls on Orange Order to reroute
SINN FÉIN President Gerry Adams has called on the Orange Order to reroute a small number of contentious parades, including the one that passed through Ardoyne on Monday night and led to rioting.
Adams was speaking after rioting by a number of nationalist youths in the wake of a contentious Orange parade in north Belfast on Monday night. Twelfth parades took place a day late because 12 July fell on a Sunday this year.
Around a hundred youths, some masked, threw petrol bombs, stones and bottles during disturbances in Ardoyne on Monday night. The rioting started several hours before a returning feeder Orange Parade was scheduled to pass by Ardoyne Shops.
After the parade had passed, the rioters continued to throw missiles, including petrol bombs, at PSNI lines and at least one shot was fired. The PSNI deployed water cannon and fired around a dozen plastic bullets.
Adams accused Orangemen of playing into the hands of a minority of anti-Peace Process elements by continuing to parade along a handful of contentious routes. The Orange Order currently holds over 3,000 parades every year, with nationalists only calling for a handful of parades to be rerouted.
Gerry Adams asked:
"Why play into the hands of those who orchestrated last night's disturbances? I would appeal to the Orangemen: they're not giving a victory to anyone if they just take an alternative route to where they want to go."

ORCHESTRATED
North Belfast MLA Gerry Kelly said the violence had been orchestrated by a micro grouping calling itself the Real IRA.
"This evening's actions expose very clearly the anti-Peace Process and sectarian agenda which feeds these factions. It has nothing to do with Irish republicanism."
Kelly said a small number of so-called 'dissidents' from outside Ardoyne had stoked up sectarian tensions and orchestrated the trouble.
"They chose to try and use the opportunity presented by this parade to further an agenda which has time and again been rejected by the republican community in Ardoyne and everywhere else.

"The Real IRA – or whatever they may call themselves – and some other splinter organisations sent people into the Ardoyne with the sole aim to cause riots."
He said 'dissident' groups had brought people into the area intentionally to cause trouble and were intent upon sectarianising the situation.
Ardoyne priest Fr Gary Donegan reiterated Sinn Féin's view that the rioting had been carried out by outsiders. The priest said those involved in violence had never been seen in the area before.
"It was as if people had been bussed into the area for this very purpose and that this was being very much orchestrated," said Fr Donegan.
Earlier, a rifle was discovered in Ardoyne by a group of children. Commenting on the weapon find, Sinn Féin's Gerry Kelly said he assumed it was there because it was going to be used.
"The last time anyone used a rifle or any weapon in a riot was in the early 1970s because in such a situation the outcome is that people will end up dead."

ORANGE VOLUNTEERS
Meanwhile a loyalist paramilitary grouping, the Orange Volunteers have made threats against Catholic-owned property.
The Orange Volunteers first emerged during the Drumcree stand-off in 1998. The statement followed a series of attacks last Wednesday night during which five Catholic churches, in Ballymena, Ahoghill, Cullybackey and Portglenone were targeted and a car burnt out on GAA grounds in north Antrim.
Sinn Féin MLA Daithí McKay pointed out that sectarian attacks had a long association with the Orange marching season and called for everyone, especially elected representatives, to use their influence to ensure tensions do not rise further.
ORANGE ORDER: Playing into hands of anti Peace process elements