9 July 2009 Edition
Remembering the Past: Dr William MacNeven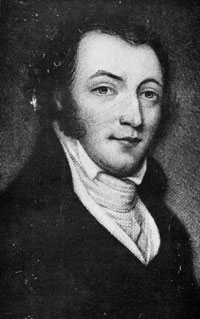 BY MÍCHEÁL Mac DONNCHA
THE Society of the United Irishmen drew support from a number of prominent people in the professional classes of Dublin. Among the foremost of these republicans was William James MacNeven, a doctor and scientist.
MacNeven was born in 1763 in Ballinahowne, Aughrim, County Galway.
The family of Mac Cnáimhín had been associated with the region for over 600 years and an ancestor was killed in battle as a chief in the army of the King of Connacht, Ruairí Ó Conchubhair, in 1159.
Another ancestor was executed by the English as a rebel against Elizabeth 1 in 1602. The Mac Cnáimhín lands, between Portumna and Loughrea, were confiscated and many of the family went into exile.
A descendant of these exiles was William O'Kelly-MacNeven, President of the Faculty of Medicine at Prague and physician to the Austrian Empress. In 1774, he invited his kinsmen in Aughrim to send his nephew, William James, to Prague to study medicine. Ten years later, the young man returned to Ireland and established a medical practice in Thomas Street, joined the staff of Jervis Street Hospital and was appointed a professor in the College of Surgeons.
TO BE WATCHED
MacNeven joined the Catholic Committee which was campaigning for civil rights for Catholics and he made the acquaintance of Wolfe Tone and Edward Fitzgerald. He was present at the founding meeting of the United Irishmen in Dublin in November 1791.
The English Viceroy Camden wrote of him: "MacNeven is very eloquent and very clever. Calculated by his talents to take a leading part in this treason. A frequent visitor to Lord Edward Fitzgerald. He must be closely watched."
MacNeven was a key figure in the United Irish movement as preparations were made for an insurrection against British rule with the aid of the French Republic. On 11 March 1798 in Dublin many of the leaders, including MacNeven, were arrested in a swoop by Dublin Castle. He was held in Kilmainham Prison with other leaders, including Thomas Addis Emmet.
Following the defeat of the rising in Leinster and Ulster and the arrest and execution of other leaders, a group of prisoners in Kilmainham agreed to give the British Government an account of the United Irish movement, without implicating individuals, in return for which the British would allow them to go into exile. MacNeven later said their purpose was to try to stop the wave of repression and "to save the country from the cold-blooded slaughter of its best, its bravest, its most enlightened defenders".
SCOTLAND
MacNeven and his fellow prisoners were transferred to Fort George in Scotland and were only released in 1802 during a lull in the war between England and France.
He went to France and joined the French Army in the hope of taking part in an expedition to Ireland but this never materialised and MacNeven resigned, disenchanted with Napoleonic politics.
Emigrating to America, MacNeven pursued a successful career as a doctor and a pioneer in the science of chemistry in New York. He remained an Irish republican and did much to assist Irish immigrants.
Dr William MacNeven died in New York on 12 July 1841, 168 years ago this week.
An Phoblacht Magazine
AN PHOBLACHT MAGAZINE:
Don't miss your chance to get the second edition of the 2019 magazine, published to coincide with Easter Week
This special edition which focuses on Irish Unity, features articles by Pearse Doherty, Dr Thomas Paul and Martina Anderson.
Pearse sets out the argument for an United Ireland Economy whilst Pat Sheehan makes the case for a universally free all-island health service.
Other articles include, 'Ceist teanga in Éirinn Aontaithe', 'Getting to a new Ireland' and 'Ireland 1918-22: The people's revolution'.