9 July 2009 Edition
THE JULIA CARNEY COLUMN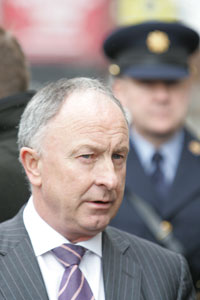 Counted out and criminal reporting
NED O'Keeffe eh? What could you do with him? He has been harassed, ridiculed, chased and cursed since he went on Cork local radio last week and announced he couldn't be bothered doing anything for the people of Rathcormack because they don't vote for him in sufficient numbers. Being not too far from the Carney homeland, the text messages and outraged phone calls were coming in thick and fast.
On Monday, RTÉ's Morning Ireland (which has a vastly improved website these days, by the way) weighed into the debate, playing Ned's interview and letting Claire O'Flynn of the local parents' association kick him up and down the street. By Tuesday, The Irish Examiner was accusing him of being a mé féiner in its editorial and his political rivals in Cork East had long been solemnly saying how outrageous it was and how they would never think such a thing.
Liars.
A few years back I dropped in to visit a friend of mine whose father was a recently re-elected Fine Gael councillor to find the two of them in the kitchen. They were sitting at the kitchen table, poring over a typed list of names, some crossed off, some not. "Christ," I thought to myself. "The day has come: the blueshirts are rounding us up for the camps."
But before I could turn my coat my friend explained they were going through the marked register, seeing who had voted and who had not. It was a cause of some frustration. Every now and again his father, the councillor, devoted and humble servant of the people, would let loose with a roar.
"The Molloys!!!" he bellowed. "Jesus, not a one of them voted after I getting them the house and stopping the priest from expelling the youngest from the school."
 A few minutes of quiet muttering passed.
"O'Hara!" he yelled, in a voice cracking in hurt and betrayal. "I got that man planning for a septic tank when no one else could and he couldn't even drive to the polling station in his fancy car."
Other families, estates, villages and so on that had not turned out in sufficient number were damned and their betrayal noted.
So I suspect there were more than a few elected reps around the country (even some Sinn Féiners, maybe?) who had a little sympathy for Ned O'Keeffe. They'd never say it themselves but every councillor and TD (or failed one of either) knows what it's like to break your back for a constituent only to see the votes pile up in someone else's boxes.
Because our election system has turned TDs and councillors into social workers, we expect them to be ready, willing and able to handle cases from thousands, even tens of thousands, of potential clients every year. Does anyone seriously think an elected rep of any party isn't going to pay more attention to the communities that vote for them?

 
 
THE defenders of Justice Minister Dermot Ahern's new criminal justice legislation have come up with two arguments of such stupidity one would have thought the very paper they're printed on would have refused to take the ink.
In Saturday's Mirror, a headline writer accused Opposition parties and civil rights groups of "trying to cripple Ahern's blitz on killer gangs". It was a line supported by Eilís O'Hanlon in the Sunday Independent. She accused civil liberties groups of "leaping gallantly to the defence of criminal gangs".
Such is the intellectual vacuum of what passes for journalism in this country (a notable exception being Matt Cooper on the same issue in the Sunday Times) that civil liberties equals supporting gangland murderers is seen as a sensible equation.
The other argument is the particularly idiotic 'If you don't break the law, you have nothing to fear.'
 Tell that to the Birmingham Six.
Or the Guildford Four for that matter.
Or the Maguire Seven.
Tell it to Nicky Kelly, Osgur Breathnach and the others convicted in the Special Court for the Sallins mail train robbery.
Remind Frank Shortt or the McBreartys in Donegal of how little they have to fear.
Tell it to Michael Hannon, found guilty of sexually assaulting a ten-year-old girl in 1999 with his conviction only quashed in April when the girl came forward and admitted she'd lied.
It's only a couple of years ago since a retired judge, Mr Anthony Murphy, went on Prime Time and told viewers that gardaí had lied in his court on a number of occasions.
I'm all for cracking down on the drugs gangs. Opposing this legislation, or saying we should take the time to make sure it's right, isn't about anyone backing the drugs gangs or wanting to go easy on the scum that terrorise our estates.
This is about wanting to keep innocent men and women out of jail because if you give the gardaí and the Special Court more powers one of the things you're guaranteed is innocent people in prison.
Here's hoping one of them is a Mirror leader writer and another is the lovely Eilís.