9 July 2009 Edition
Madge McConville RIP: A lifelong freedom fighter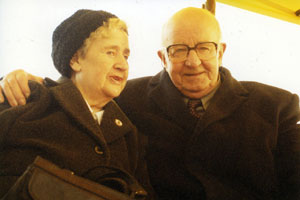 MADGE McCONVILLE, from Belfast, has been one of the most respected republican women to have stood with the people and the prisoners in the struggle for Irish freedom. Madge passed away on 4 May. As a tribute by grateful comrades from many generations to this courageous woman, we reproduce extracts from the graveside oration delivered at her funeral by Sinn Féin Cllr Fra McCann.
"On behalf of the Republican Movement, I would like to start by offering our deepest sympathy to the Mc Conville family circle on the death of their mother Madge.
It is always difficult to speak at the graveside of someone you know.  How can you sum up the life of someone like Madge Mc Conville in a few minutes?  She was a woman of immense strength and courage whose republican beliefs came from a lifetime of involvement in the struggle for Irish freedom.
I knew Madge for most of my life as she lived in the Cullingtree Road at the time when I was growing up in Albert Street in the 50s and 60s.  I knew her as a deeply committed and proud republican always ready to do all that was asked of her, which she did over the decades of her involvement in the Republican Movement.
She had a great love for her family and for her husband Tommy, who sadly passed away some years ago.  I always remember people speaking in hushed voices about the troubles; names were rarely mentioned but occasionally you would hear stories of the bravery and courage of republicans who came up through the dark days just after partition and you would hear of certain families and individuals who were sound republicans, amongst them the names of Madge and Tommy Mc Conville.
When people spoke of them they spoke with respect, it was only when you became involved yourself and heard the stories that you really understood how difficult it was to be a republican in those early days.  It would have been so easy to walk away, given the oppression and poverty that prevailed.  Work was scarce and money was non-existent, but through all of this there were people who stood out, people who kept the flame of resistance burning and Madge Mc Conville was one of those people.
Madge would probably be laughing at my description of her, but I can't emphasise enough her status as a republican icon, a humble woman from the Falls Road who resolved to do whatever she could about the injustice she saw around her.
Madge was born Margaret Burns on 12 June 1922 in Cyprus Street.  At the age of 9 she joined Cumann na gCailíní following in the footsteps of her brothers who were in the Fianna at the time.  It was during this period that she developed a love of her history and began learning Irish.
Her daughter Mary some time ago wrote a profile of Madge in which she explained that she joined Cumann na mBan at the age of 16 and was involved in procuring safe houses for the IRA, transporting weapons and raising money for the prisoners.
This was during the hungry 30s as they were called, but for nationalists it was always hungry times.  During this period Madge was actively involved in republican resistance, when in Easter 1942 she was arrested with her friend Gorretta Nolan for their involvement in an IRA operation which resulted in the death of an RUC man and the wounding of an IRA Volunteer.                                         
Tom Williams and five other men were all to be charged with murder.
Some time later Madge's charges were dropped but she was re arrested in the court and interned without trial in Armagh Prison.  Her comrade Tom Williams was later executed by the British and her five other comrades had their sentences commuted to life.

Madge was held for two years, during which period she embarked on a hunger strike but had to come off due to illness.  Madge was in prison in February 1944 when she learned of the shooting of her brother Seamus Rocky Burns by the RUC during a gun battle in the Queen Street area of Belfast. When Rocky, an IRA volunteer, later died of his wounds, Madge was refused parole to attend his funeral.  She was to be released a matter of weeks later.
It was during this period that she met her future husband Tommy who had also been interned by the British for 4 years.  They married in 1946 and had 7 children one of whom, a son named Seamus, died after just ten days.
The family was steeped in stories about Irish republicanism, Irish history and the culture of keeping in touch with comrades at gatherings like ceilis etc.  I always remember hearing the stories of the Ard Scoil and the scoriachs, and the role they played in the cultural life of the Falls and Clonard in promoting and maintaining Irish language, dance and other forms of cultural activities.
In the 1960s Madge was in Divis Street when the RUC broke down the doors of the Sinn Féin election offices to remove the national flag and then attacked the local population which was later to be known as the Divis Street Riots.
Also in the 60s Madge and other republicans became involved in the campaign for civil rights and campaigned for better housing for local people.  This social agitation was to result in the plans to build Divis Flats, however the objective was decent housing not high rise flats.
Life changed dramatically for Madge in the late 60s when nationalist areas were invaded and attacked by unionist mobs and the Mc Conville household became an open house for volunteers who were protecting the area.
In the early 70s Madge became the local OC of Cumann na mBan, later rising to Battalion OC, and worked closely with the IRA's Belfast Brigade.
She bore the brunt of constant harassment and was arrested on many occasions and held by the British for interrogation and released after 3 days but this never dented her commitment.  During the 70s a number of women from the wider Belfast area were arrested and interned, among them Madge who, 33 years after first being arrested, charged and then interned, found herself back in Armagh prison as a 53 year old grandmother.
It is clear from speaking with many of the women who were in Armagh at the time that Madge was greatly respected. She always maintained a strong affinity for women republican prisoners in Armagh.  A few short years later she was to visit two of her own children in prison, Mary in Armagh and Gerard in the H-Blocks.
During the H-Block-Armagh prison struggle Madge was actively involved in the Relatives Action Committee.  I have particular memories of Madge, Isobel O'Neill, Sadie Chesney, Síle Adams, Bridie Mc Gahey and my own mother night after night taking part in protests and collecting money for the hunger strike.  Those dark months of 1981 took its toll on our community and none more so than the people who marched the streets.
Madge's daughter Mary tells one of many stories about when Madge arrived in Armagh Prison and a screw asked her if she was Madge Burns. When she replied she was, the screw told her that because her brother Rocky had escaped form Derry Gaol there was a fear that he would try to break Madge out and so the prison had been put on full alert. The story goes that a group of them were sitting  round a fire when soot fell down the chimney and they all jumped up shouting 'Rocky's coming down the chimney'.
It is stories like this that tell the story of struggle and the story of resistance.
Every time we lose a Madge McConville we lose a part of ourselves, she represented what republicanism was about, she was the embodiment of our history.
She lived every day of her life from she was a nine year old in Cumann na gCailíní, to her role in armed resistance, to her role as a leader in Cumann na mBan, her campaigns around housing and Civil Rights, to her time in Armagh prison and through it all she still managed to raise a fine proud family.
Again, on your behalf, I wish to express sympathy to Anne, Thomas, Mary, Gerard, Bobby and Frankie whose mother Madge we lay to rest.  You have lost your mother but we have all lost a friend.
Go raibh maith agat."
republican icon laid to rest:  Madge McConville's coffin draped in the Cumann na mBan flag is carried by Fra McCann