9 July 2009 Edition
IMF proposals will make bad situation worse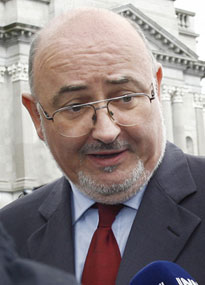 BY STEPHANIE LORD
SPEAKING during the Dáil debate on the International Monetary Fund (IMF) report on the Irish economy Sinn Féin Economic Spokesperson Arthur Morgan said, 'whilst the reports substantive historic analysis of how the government, the banks and the developers brought Ireland into recession is broadly correct, the IMF's recommendations going forward will make a very bad situation worse.
 "Fianna Fáil led governments were warned for years in advance of the recession that measures needed to be taken to curb the dangerous over-inflation in the housing market and the dangerous over dependence of the exchequer on taxes generated from consumption and construction.
"For years Sinn Féin doggedly put forward alternative equitable economic models that would have substantially cushioned the blow for Ireland from the global financial crisis. Fianna Fáil's Charlie McCreevy, Bertie Ahern and Brian Cowen chose instead to treat the economy like a cash cow to the benefit of their developer and financier friends. And the people are now picking up the tab.
 "If the recommendations of this report were to be implemented, we would see this economy spiral into depression. There is no stimulus here, just slash and burn policies. It is what we have come to expect from the IMF and this government."
Sinn Féin Dáil leader Caoimhghín Ó Caoláin TD has said the Government's attitude to the economic crisis can be summed up by a Freudian slip in the IMF report which recommends 'more targeting of the vulnerable'. He rejected the idea that welfare needs to be cut and said jobs, investment and education are the key to economic recovery. "There is a very unfortunate Freudian slip in the summing up of this IMF report. On page 29, bullet point 52, the IMF recommends 'More targeting of the vulnerable'. And that, I am afraid, is how this report and this Government's attitude to the economic crisis, can be summed up," said Deputy Ó Caoláin.