9 July 2009 Edition
Health cuts hurt patients in Cherry Orchard and Crumlin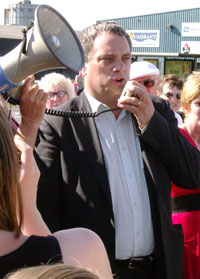 ELDERLY patients in a respite home funded by the Health Service Executive (HSE) are being forced to go to private nursing homes this summer.
Dublin's Cherry Orchard Hospital wants to shut down a ward of 16 beds until October because, it claims, there are no staff to cover annual and maternity leave.
As far back as mid-June, Sinn Féin TD Aengus Ó Snodaigh warned the HSE and the management of the hospital that the proposal to close down the newly-refurbished Beech House, containing 25 community beds, and to sub-contract a private operator to treat 10 public patients would cost the public more and will put patient care at risk.
On Friday of last week, a protest march and rally in support of the families was held at Cherry Orchard Hospital to coincide with the dispersal of the first patients around the complex.
On Monday morning, Aengus Ó Snodaigh and the family of one of the first two patients moved had an emergency meeting with the HSE about concerns for the absolute failure over the weekend to care for their father.
Willie Sweeney was moved from the unit he had grown accustomed to three days a week to a stroke unit on Friday. The new unit's staff weren't aware of his medication and he was cleaned only on Monday. His pad was last changed late Saturday and he was only given a normal chair, where his care specified that he must have an orthopedic chair as the discs in his neck are deteriorating. The securing of doors have been controversial as Willie has a tendency to wander away.
Aengus Ó Snodaigh said:
"If this is the level of care, after a promise of continuity and equivalence of care given when families and local politicians, including myself, met with the hospital management on Friday during the protest, it is disgraceful.
"The whole disruption of patients and their families is due to penny-pinching, where the hospital cannot employ seven or eight nurses to provide holiday or maternity leave cover.
"Health Minister Harney and Professor Drumm of the HSE should resign immediately for gross incompetence in running the HSE.
"The cut in community beds in Cherry Orchard should also be reversed and in fact enhanced to cater for the public demand."
Dublin Sinn Féin Councillor Louise Minihan (Ballyfermot/Drimnagh), a member of the HSE Dublin/Mid-Leinster Forum, described the HSE's decision as "illogical".
"There is no logic in closing down a public facility and then pay over the odds for the same service to be delivered in a private facility unless, of course, the idea is to use taxpayers' money to fund private healthcare, which is the privatisation agenda of Minister Harney and  the Fianna Fáil/Green Government."

CRUMLIN CHILDREN'S HOSPITAL
Meanwhile, speaking on a Dáil debate on government cuts imposed on Crumlin Children's Hospital Aengus Ó Snodaigh TD slammed Health Minister Mary Harney, Fianna Fáil and the Greens for their continued failure to put first the health and well-being of Ireland's children.

Ó Snodaigh called on the Government to bin once and for all its privatisation agenda and commit itself to delivering a first-class, publicly-funded universal healthcare system.
Ó Snodaigh said:
"The debate is an important one as it will starkly expose the impact of the cuts imposed by this Government on our children's healthcare. Mary Harney remains wedded to the PDs' failed privatisation agenda and her Government partners, Fianna Fáil and the Greens, are doing little to stand in her way."
The Dublin South Central TD pointed out that the HSE has increased its spend on private hospital procedures for children over a recent year period by an astonishing 8,400%. In 2004, the HSE spent €54,536 on sub-contracting operations on children to private hospitals. By 2008, that figure had risen to over €4.5 million. In total, the Government has diverted €16.5 million between 2004 and 2008 away from public health service provision for children to private hospitals. He added:
"Health Minister Mary Harney has imposed a range of savage cutbacks on Crumlin and Tallaght Children's Hospital, including the closure of an operating theatre which will result in the delay or cancellation of more  than 2,000 operations and the closure of two wards in Crumlin due to a  miserly €9.6 million shortfall in funding from Government. Take this shortfall in the context of the most recent Government Anglo bank bail-out of €4  billion and it is clear where this government's priorities lie.
"Last summer, Crumlin faced similar cutbacks with the closure of a cystic fibrosis weekend ward and a range staff let go from a number of departments including urology and neurology. Our Lady's is a national centre of excellence for the care of children yet the government refuses to adequately fund its needs to operate effectively.
"Privatisation of public services does not work. It didn't work during the Celtic Tiger's years and it will not work during the recession. If billions of euro can be found at a moments notice to bail out a bad bank like Anglo then a similar commitment and approach needs to be embraced by this Government to our children's healthcare.
"From the days of Dev, Fianna Fáil's record when it comes to the care and well being of our children, particularly the most vulnerable, is disgraceful. They have never cherished all of the children equally nor have they prioritised their education, their care and their health."
PROTEST: Rally against disruption of patients and families at Cherry Orchard Hospital