9 July 2009 Edition
Doherty says minister 'out of touch' on student fees issue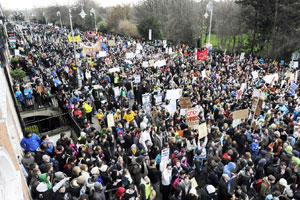 SPEAKING on Monday as 26 County Education Minister Batt O'Keeffe prepared to present his proposals on college fees to the cabinet this week Sinn Féin Education Spokesperson Senator Pearse  Doherty described as 'ridiculous in the extreme', the Minister's notion that fees will not affect the less well off.
"As predicted O'Keeffe has waited out the local and  European  elections before moving on his plans to reintroduce fees to third level students", Doherty said.
"As yet the Minister has given no indication of what mode of fees he intends  to introduce, be it upfront tuition fees or Fine Gael's equally regressive and dishonest  graduate tax. He has said that his proposals will be signed off on by September when pupils start back at college.
"His  notion that these fees 'will not affect the less well off' and are 'family-proofed'  and that families will be 'pleasantly surprised' is ridiculous  in  the  extreme.  The minister is obviously living in cloud cuckoo land. These comments are insulting to all those who will now have to scrimp  and  save and  in  a  lot  of  cases completely forgo their education  because  of  the  incompetence  of  this  government and this minister.  It really shows just how out of touch the Government is with everyday life", he said.
ATTACK ON EDUCATION
"Figures from the Minister for Education and Science's economist show that,  at  most  third  level fees would raise less than €30 million per annum.  This is before tax relief on tuition fees of 40% are included.  Given the  nature of the chronically under-funded tertiary sector, this  amount will have no  real  financial impact and any potential benefit would be  lost  as  thousands  of  students  are  forced  out of higher education.
"Sinn  Féin  is  totally  opposed to this attack on education and to the dishonesty and disrespect shown to students and their families by Fianna Fáil, the Greens and Fine Gael.
 "The Minister needs a reality check. His proposals will force thousands of students out of education. He should be ashamed of himself", the Donegal Senator said.