2 July 2009 Edition
Campa Náisiúnta Óige 2009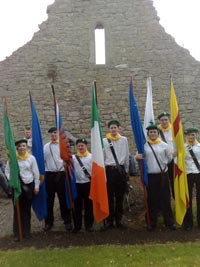 Spirit of the Fianna burns strong
KNOCKATALLON, County Monaghan, an area of outstanding beauty with a rich history to match was the setting for the National Youth Camp 2009.
Young people from across Ireland gathered in the republican heartland on Friday, 19 June, to pitch their tents in anticipation of a weekend of education, debate, craic agus ceol.
The theme of the weekend, 'Republican Youth – A Century in Struggle', was inspired by the 100th anniversary of Na Fianna Éireann and the Campa Náisiúnta Óige 2009 wanted to recapture some of the energy, education and inspiration from the original Fianna camps.
After successfully establishing base camp, the young republican activists gathered in Sliabh Beagh Community Hotel to be welcomed by the outgoing Mayor of County Monaghan, Sinn Féin Councillor Matt Carthy.
Matt, a previous National Organiser of Ógra Shinn Féin, spoke of the importance of young people meeting up at events to educate and empower themselves.
He spoke of the importance of a constant stream of young people coming through in the struggle, and stresses that only with a strong, vibrant party, with educated, dedicated youth at every level of influence in the party, can we properly engage young people and convince them of our objectives.

100 YEARS OF REPUBLICAN YOUTH
Following the fáilte by Matt (and a big dinner), delegates and local young people assembled for the first talk of the weekend, 'Republican Youth – A Century of Youth in Struggle.'
Pádraigín Uí Mhurchadha, a Sinn Féin councillor for 24 years and sister of one of Ireland's most famous patriots, Fergal O'Hanlon, and Barry McColgan (National Organiser of Ógra Shinn Féin) led the discussion.
Pádraigín spoke of the regard in which her brother Fergal was held in Monaghan and, following his untimely and tragic death alongside his comrade Seán Sabhat, there was a huge outpouring of grief across Ireland and a galvanising of support for Irish republicanism that has endured until today.
Barry said that the proud republican youth lineage of Na Fianna Éireann could be found in Ógra Shinn Féin today, who are continuing that invaluable role of recruitment, education and campaigning, and urged young people to look to Na Fianna, their actions and their sacrifice for all the inspiration they need to maximise our efforts to achieve an Irish Republic.
 
DON'T EXTRADITE THE BASQUES
The first talk of Saturday morning was with Basque activist Arturo 'Benat' Villanueva on the recently-launched campaign 'Don't Extradite the Basques'.
Benat spoke about the current attempts by the Spanish Government to extradite himself and fellow Basque Inaki de Juana from their new homes in Belfast back to Spain.
The talk had to be conducted via a video conferencing as Benat is unable to travel outside of the North as part of his bail conditions set as a result of the repressive extradition request.
Many questions where asked of Benat, and following the talk, Ógra activists and young republicans developed different ideas and actions which could help highlight the case and bring pressure to bear on the British Government to stop the extraditions.
 
OUTREACH
Workshops on 'New Generation – New Opportunities' followed with Gemma McKenna opening the session with interesting observations on new opportunities for outreach with the unionist community and also the huge potential for outreach to Left progressive groups and activists across Ireland.
The workshops produced much debate, with many practical measures being suggested on how Ógra can help assist and aid the development of a broad Left alliance, encouraging co-operation through the youth wings, through youth in schools and universities.
It was also highlighted that the Ógra are currently working with all the various youth wings in the North on the issue of youth mental health, and it was pointed to also  that projects like this are crucial in outreaching to young unionists, as mental health is an issue that affects us all, and is something we all need to be united in tackling.
 
COMMUNITY STRUGGLE
After a hearty lunch, and a bit of a breather, delegates gathered for the last talk of the weekend, 'Community Struggle – Back to Basics.'
Two speakers addressed the crowd, Jim Monaghan, one of the Colombia Three, a lifelong republican activist and published author, and Bronwyn McGahan, republican former POW, member of the Sinn Féin Ard Chomhairle, and member of the Dungannon District Policing Partnership.
Jim addressed the need for all republicans to involve themselves in community activism, and to be responsible to your community and play your part, however small, in helping empower communities and bringing a republican ethos to your area.
Jim said that community activism was one of the most vital aspects of Sinn Féin work and can play a huge part in promoting republicanism across Ireland, and building support and he asked was the Sinn Féin structure currently fit for purpose to facilitate the best delivery of that.
Bronwyn McGahan spoke about policing and the community, and how young republicans can help in holding the PSNI and Garda to account.
She stressed that Sinn Féin's approach to policing is on a 32-county basis with the long-term objective of forming an all-Ireland accountable, civic, unarmed policing service.

REPUBLICAN TOUR AND COMMEMORATION
After much debate and ideas on how to progress the wider issue of community engagement, it was on to the bus and around Fermanagh and Monaghan, visiting many historical sites and monuments.
Local historians and republican activists joined the group on the tour showing sites such as the Seamus McElwain monument, Roslea graveyard, Tony Ahern Monument, Mulligan's house and the Pearse Column Monument, dedicated to Seán Sabhat and Fergal O'Hanlon.
Local people spoke at each of the sites, and at some of the monuments dedicated to our patriot dead, Ógra activists laid wreaths.
The delegates arrived back in Knockatallon for dinner, followed by a night of craic agus ceol with music in the bar, a rock band in the hall, and an open mic session that continued on well after the hotel closed.
 The undoubted star of the open mic was Ross with his eclectic mix of Hallelujah, to 25 years and even a Basque song thrown in for good measure, although a Cork duo were close second with a lovely rendition of My Lovely Horse.

BODENSTOWN
Surprisingly, everyone was up bright and early for Sunday morning, packing up their tents and sleeping bags, and grabbing some much-needed breakfast before the long journey to the annual Wolfe Tone Commemoration, starting in Sallins, County Kildare.
Continuing on the theme of the weekend, and to commemorate a century of youth in struggle, Ógra Shinn Féin had a Na Fianna Éireann colour party, with other Ógra activists carrying Na Fianna flags throughout the march.
The thousands of republicans coming together at Bodenstown to remember the father of Irish republicanism was a fitting end to an excellent weekend.
The spirit of Na Fianna Éireann burned strong and no doubt the memories, lessons, and inspirations of Campa Náisiúnta Óige 2009 will stay with all in attendance for the rest of their lives.
An Phoblacht Abú!
http://ograshinnfein.blogspot.com 
PITCH THAT TENT: Getting ready for a weekend of education, debate, craic agus ceol in Knockatallon