2 July 2009 Edition
Doherty calls for by-election writ to be moved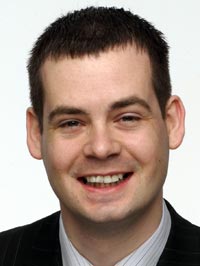 DONEGAL South West Sinn Féin Senator Pearse Doherty has called on the Government to support a Sinn Féin motion in the Dáil to move the writ for the by election to take place to fill the seat left vacant as a result of the election of Pat the Cope Gallagher to the European Parliament.
Speaking on Wednesday as Sinn Féin tabled the motion Senator Doherty said, "The democratic representation of the people of Donegal South West must be restored to its full quota at the earliest opportunity. We must not see a repeat of previous situations where constituencies have been left for more than a year without their proper representation. Sinn Féin is today taking the lead in calling for this by-election to be held at the earliest opportunity.
"Donegal is a county that was by and large left behind by the Celtic Tiger and is currently suffering the highest levels of unemployment in the State with 10,000 people losing their jobs last year.
"The infrastructure deficit in my constituency is massive. We have no railway link, very little access to broadband, local and regional roads are in a state of disrepair and we are not connected to the national gas grid.
"The fishing sector is on its knees as a result of Government inaction and over regulation. Cancer services have been withdrawn in one of our hospitals and there has been massive cuts in home help hours. The future of the Gaeltacht area is in question as it continues to contract amid Government intransigence.
"All of these issues need to be addressed and it is therefore essential that Donegal South West has its full quota democratic quota restored to it urgently.
"The Government must not drag its heels on this. Time must be allowed to debate the Sinn Féin motion and I would remind Fianna Fáil TDs of the words of Pat the Cope Gallagher himself when calling for a by-election in Donegal South West in 1986 when he said that it was 'morally and democratically wrong' for the then Fine Gael/Labour Government to oppose the election."