2 July 2009 Edition
McCausland - The No man of Ulster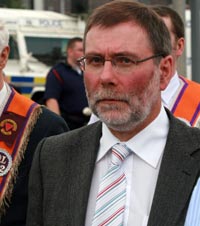 Nelson McCausland has never been known to fight shy of controversy in fact he is pretty much renowned for it. If Ian Paisley was the "Never, Never, Never" man of Ulster politics then McCausland is the no man. His notoriety began as leader of the Ulster Clubs and it was "no" to the Anglo Irish Agreement.
As the secretary of the Lord's Day Observance Society it was no to Sunday opening and football matches on the Sabbath. He branded the introduction of Irish signage in Belfast City Cemetery as "arrogant and offensive" despite the fact that many of the graveyard's Protestant headstones bear Irish inscriptions. It's no, no, no to the Irish Language and he makes a virtue of having "nothing to do with the GAA".
He's campaigned against a Catholic Grammar school reopening sports pitches in a predominantly Protestant area of North Belfast. McCausland objected to plans to build a new university campus in West Belfast on the grounds that it would be a "campus for Roman Catholics only".
McCausland supported a decision not to fund a film festival by Belfast City Council because the title included the word "Celtic" claiming it would be "a denial of the cultural rights of the majority of people".
He was against the development of luxury flats in Ardoyne on the grounds that it was a thinly disguised Fenian plot to "expand their community" by attracting middle class Catholics into the area.  
But for once it was "yes". Attending last Saturday's controversial Whiterock Orange Order parade, McCausland appeared to have no problem with the loyalist paramilitary bands and it was a responding "yes" to forcing an unwelcome Orange parade through the nationalist residential Springfield Road area of west Belfast.
Nelson McCausland was appointed Minister for Culture, Arts and Leisure, a post which also holds the Irish Language brief, by DUP First Minister Peter Robinson last week.