2 July 2009 Edition
Sinn Féin consistently warned of flaws in economy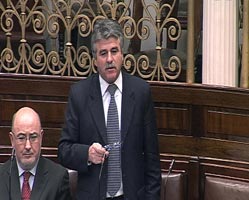 Sinn Féin Finance Spokesperson Arthur Morgan TD has accused Finance Minister Brian Lenihan of lying to the media when he claimed that nobody had warned Fianna Fáil that it was overheating the property bubble in 2005, 2006 and 2007. The Louth TD said Sinn Féin is on record as continuously warning Fianna Fáil throughout those years that the economy was over-dependent on the construction sector and that there would be no soft landing for the housing market.
Speaking last Friday Morgan said, "During the course of comments made by Minister Lenihan yesterday he finally admitted that Fianna Fáil had made mistakes in overheating the property bubble. However, he also makes the spurious claim, which has been trotted out by Fianna Fáil a number of times now, that no other party warned them about this fundamental economic mistake. That is a blatant lie and cannot go unchallenged.
"Sinn Féin is on record as having continuously warned Fianna Fáil and their then Government colleagues in the PDs that they were putting the state's economy on the line by stoking up the overheated property sector. And we are the only party that didn't base our 2007 General Election Manifesto on wild predictions of economic growth because we could see the writing on the wall.
"However, these arrogant parties – Fianna Fáil and the PDs, rather than listen to reason, instead branded us as economic illiterates who wouldn't have a clue. Had they heeded the warnings that my party gave them we would not now be in the perilous position, which we currently find ourselves in. It is now very clear who the real economic illiterates are.
Morgan also said that Fianna Fáil didn't want to listen to anyone else's warnings as they continued to fuel the property sector and "line the pockets of their developer friends at the expense of our economic viability."