2 July 2009 Edition
Government must demand release of Irish citizens from Israeli custody - Ó Snodaigh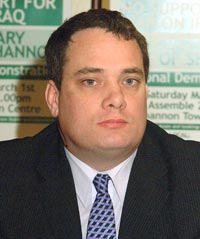 SINN FÉIN International Affairs Spokesperson Aengus Ó Snodaigh TD has called on the Government to demand the release of two Irish citizens and others who were  yesterday  kidnapped  by  the Israeli Navy while on a humanitarian mission to Gaza. Deputy Ó Snodaigh said the actions of the Israelis amounted  to  piracy and called on the Government to seek the end of all preferential trade agreements in light of their ongoing human rights abuses.
Speaking  in the Dáil on Wednesday Deputy Ó Snodaigh said, "The Government must demand the immediate release of the Irish citizens and others aboard the Spirit of Humanity which was on its way to deliver humanitarian aid to the besieged people of Gaza and which yesterday fell victim to piracy by the Israeli Navy in international waters.
cleared by the Customs
"The Government must  also demand the return of the confiscated humanitarian aid that was on board including medicine, toys, olive trees and cement which had been cleared by the Customs of our EU neighbour Cyprus. The boat must be released and allowed it proceed on its way.
"And, in light of the Israeli blockade on Gaza and its ongoing human rights  abuses, the  Government  should seek an end to all preferential trading agreements with Israel."