2 July 2009 Edition
Navy escort, Garda siege and arrests herald arrival of Shell pipe-laying ship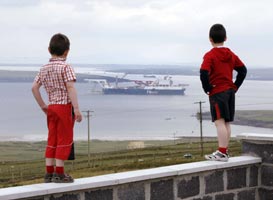 IRISH navy vessels escorted the world's largest pipe-laying ship, the Solitaire, into Broadhaven Bay in north Mayo on Friday, 26 June, where it will attempt to lay part of the offshore section of the controversial Corrib Gas pipeline.
The Shell to Sea campaign has complained that the community around Shell's operations is now besieged and intimidated by hundreds of Gardaí, Shell security and naval vessels, "all in the cause of giving away Irish gas to multinational companies".
Shell to Sea has pointed out that Irish taxpayers are now funding navy participation in an operation that would see tens of billions of euro worth of Irish gas handed over to Shell, Statoil and Marathon.
The consortium can then either export the gas or sell it to Bord Gais at international market rates. Shell to Sea says "the circle would be completed when Bord Gais sells the gas back to Irish taxpayers".
The group has asked  Minister Eamon Ryan to clarify whether there is any precedent for the use of the navy in such circumstances and said that the Garda has "dispensed with any pretence of being independent of Shell and are now systematically assaulting and arresting anyone who gets in the way of this project."
An investigation is ongoing into the recent sinking of a boat owned by Pat O'Donnell a member of the Erris Inshore Fishermen's Association (EIFA). Shell Ireland (SEPIL) has denied accusations that its employees were involved in the sinking of the Iona Isle.
Despite the fact that Pat O'Donnell and three other local fishermen have been guaranteed protection at sea by Gardaí while working in their fishing grounds, gardaí and the Navy entered two local fishing boats last week. Pat O'Donnell and Jonathan O'Donnell were arrested from separate boats for allegedly 'loitering' while in their workplaces.
According to Shell to Sea, the arrests of the fishermen appear to have taken place to facilitate the arrival of the Solitaire.
CHAINED: Five protestors lie on the road chained together with their arms placed in large pipes