25 June 2009 Edition
Doherty speaks at Hammersmith on British-Irish relations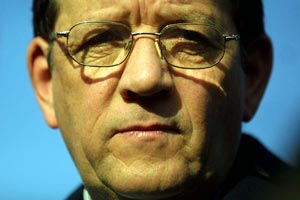 SINN FÉIN MP Pat Doherty addressed a well-attended meeting at London's Hammersmith Irish Centre on 17 June to speak as part of a series of lectures organised at the centre looking at the current and future relationship between Britain and Ireland.
The West Tyrone MP drew particular attention to the party's initiative to open up a wide discussion on Irish reunification, which will see a major conference in Britain in early 2010.
He said that the context of the economic crisis which is affecting Ireland, North and South, is underpinned by the negative impact of partition "that holds back the Irish nation from winning its full potential".
He said:
"Sinn Féin strongly believes that one of the best ways out of our present economic difficulties is through planning on a co-ordinated, all-Ireland basis."
He pointed to the progress made during the Peace Process and made the point that the mechanism allowing for Irish unity is embodied in the Good Friday Agreement, adding:
"The legitimacy of the aim of unity and its inclusion in the agreement was paramount throughout the Peace Process.
"This international agreement, for the first time, contains an acknowledgement by the British Government that the Irish people – and the Irish people alone – have the right to determine the future of Ireland. In the agreement it makes clear that an end to partition, a 'sovereign united Ireland', is as desirable and politically legitimate as the status quo.
"Indeed, it even spells out how this could happen — by a majority vote in referenda, North and South."
This underlines the importance, Pat Doherty said, of opening up the debate on reunification now.
He said any 'border poll' and the case for Irish unity would continue to be accompanied by "real and intense dialogue with the unionist community" at all levels.
Sinn Féin's vision of a reunited Ireland is "based on both prosperity and equality, both North and South, and where Ireland is at peace with both itself and its neighbours".
BROAD CONFERENCE
A lively series of questions and discussion underlined the interest in putting the debate on Irish unity firmly on the agenda.
A broad conference next year would seek contributions from all points of view to discuss the issues, including from the Irish Diaspora in Britain, the political parties, the trade unions, and leading figures and organisations in academia, the arts, the media and civic society.
Further details of the conference in Britain will be announced in the coming months.