11 June 2009 Edition
Belfast hears harrowing eye-witness account of Israeli assault on Gaza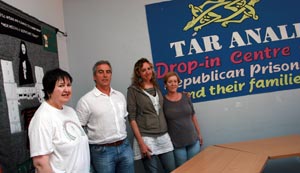 IRISH human rights activist Caoimhe Butterly provided an eyewitness report from Gaza at a meeting in St Mary's University College in west Belfast on Wednesday 3 June, organised by the Irish Palestine Solidarity Committee.
Butterly has been working in Jabaliya and Gaza City as a volunteer with ambulance services and as a co-ordinator for the Free Gaza Movement. She outlined an extremely harrowing account of the December-January Israeli offensive against Gaza and of the ongoing impact of the siege on Gaza's 1.5 million people.
"That there are no safe places – no refuge – is felt acutely,"
Butterly said. "It is a devastating awareness for parents – that there is no way to keep their children safe." She outlined the work of ambulance volunteers in responding to the massive Israeli bombing campaign against civilian targets by trying to reach the victims and pull them from the rubble.
Butterly urged those present to get active in the Boycott Israel campaign and to take "twinning" initiatives between their organisations and their Gaza counterparts in order to break down the utter isolation felt by Gaza's people. She also urged people to join the Irish contingent in the next Viva Palestina convoy of aid aiming to break the siege of Gaza in October.
John Hurson, Caoimhe Butterly and Gerry Adams