11 June 2009 Edition
Turn out for Bodenstown 2009 on 21 June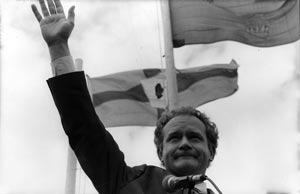 IT'S that time of year again when republicans come together in Bodenstown to honour one of Ireland's most beloved patriots, Wolfe Tone, and after a hard-fought election campaign the event will be an appropriate venue for people to re-energise themselves.
The event this year falls on Sunday 21 June. People should assemble in Sallins at 1.30pm before the march to Wolfe Tone's grave. The main speaker will be Martin McGuinness and the theme is 'Uniting people, Uniting Ireland.'
The commemoration will feature pageantry depicting the 1798 Rebellion, the Tan War and the Border Campaign and the truck from the Brookeborough raid will be present. Period uniforms will be worn by the participants who will be from all 32 counties.
The event will also commemorate the centenary of Fianna Éireann and will include a young people's colour party which will be followed by youths wearing county jerseys from all across the country. The theme 'Women in Struggle' will also be represented.
This year, the local restaurants and pubs in Sallins will be open to enable people to take refreshments after the march. Comhairlí ceanntair and cumainn are asked to organise buses locally.
Speaking in advance of the event, Sinn Féin deputy leader Mary Lou McDonald called for a huge turn-out this year.
"At commemorations like Bodenstown we take the opportunity to reflect on our history while keeping a eye on the future. Now, after the elections, we need to rally for the future. There is work to be done and there's huge potential out there for Sinn Féin.
"The annual Bodenstown commemoration is an invigorating moment for republicans when we get together to reflect on the origins of the Movement. It's an opportunity for republicans to get together as comrades and friends. It's a vitalising time for us, a time when we rededicate ourselves to our republican goals."