11 June 2009 Edition
Reasons to be cheerful down South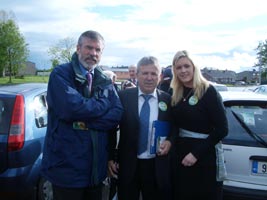 BY KEN O'CONNELL 
A count centre is a strange place. In the digital age it is odd to see people shuffling through ballot papers and stuffing them in cubbyholes, or carting them around by the hundred in wire baskets. Electronic voting would dispose of the whole process at the touch of a button. But it would also take much of the excitement from an elections
Sunday morning at Cork's Neptune Stadium, the count for the Ireland South European Constituency started off quiet. The Sinn Féin team arrived before 9pm. The hall was nearly empty except for a group of Kathy Sinnott's supporters.
There was no tally, but people craned their heads to glimpse ballots as the count got underway. It quickly became clear that Sinn Féin had polled extremely well  – ballot after ballot was giving Toiréasa Ferris No.1 or 2.
Gradually more people arrived. Party members from Cork City came in after the completion of the local election count in City Hall, where Thomas Gould had just taken the party's fourth seat on Cork City Council. At lunchtime a busload of supporters arrived with Toireasa from Kerry – and promptly went to the pub to watch Cork and Kerry draw in football.
As a first count result drew closer, we could see the votes for Toiréasa piling up and it became clear we were in the running for a seat. Around 7pm the formal result came in – we were in third place, ahead of both Alan Kelly and Kathy Sinnott. The Sinn Féin vote had more than doubled since 2004.
The count shut down at 10am. The Kerry bus returned home and the Cork contingent headed to the pub to celebrate their local election wins. There were plenty of sore heads around the count centre when it re-opened on Monday morning.
Throughout the day, as the slow process of eliminations and distributions continued, Labour's Alan Kelly moved into the lead and gradually widened the gap. Kathy Sinnott appeared to be stagnant, sitting 2,000-3,000 votes behind Toireasa. If we could hold this place, there was the possibility that Sinnott's transfers, falling more heaviliy to Toiréasa than to Alan Kelly, would yet win us a seat.

SUDDEN CHANGE
It was now the turn of Sean Kelly of Fine Gael to cross the line. Suddenly the hall was crowded as Enda Kenny and an army of handlers arrived to congratulate their new MEP. As Kenny leaned across to shake hands with Martin Ferris and wish him luck, Martin replied "Are you offering us coalition?" and there was a wave of laughter.
At this point most of the Sinnott team had left, conceding defeat. But suddenly things changed. Kelly's surplus of 10,000 was greater than expected.  And because it was drawn from Colm Burke's votes, it was also breaking heavily towards Alan Kelly of Labour and Cork-based Kathy Sinnott.
Furious calculations were made on stray pieces of paper. Toiréasa's lead over Sinnott still seemed unassailable. But after another couple of hours, it was confirmed to us by the count centre officials – Sinnott was 688 votes in the lead.
The Sinn Féin team got together to consider calling a recount. It was clear to us there was no possibility of reversing Sinnott's lead, and in any case, Alan Kelly was now so far ahead of both remaining candidates we could not take a seat. Better to concede graciously.
Sinn Féin members and supporters gathered around the candidate as the results were declared. There were cheers and applause as the final tally of votes for Toireasa was announced – 74,480.
Disappointed but not too downhearted, we adjourned to the pub. Toiréasa had more than doubled the party vote in the Euro elections; Sinn Féin had increased its tally of City and County Council seats across Munster by half; our representation on Cork City Council had doubled, and our town council tally had increased as well. We had not quite laid our hands on the biggest prize: but there were plenty of reasons to feel content.