11 June 2009 Edition
Manhunt for mercenary leader who worked for Shell in Mayo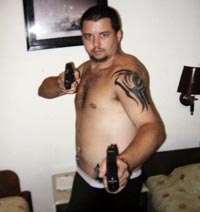 BY ADAM MURPHY
THE head of the mercenary group intercepted in Bolivia eight weeks ago while plotting to assassinate Bolivia's Socialist President Evo Morales has been named as a Hungarian man who was a private security guard on the Shell pipeline project in Mayo. And Tibor Revesz may have been hiding out in Ireland while Bolivia launched an international manhunt for the fugitive.
In the police raid on a Santa Cruz hotel on 16 April, three men were killed and two others captured. One of them was Irishman Michael Dwyer, a 24-year-old from Balinderry, Tipperary. Dwyer had also worked alongside Revesz, confronting Shell to Sea campaigners at Rossport.
It is believed that, as well as Dwyer, one of the men killed and one of those captured – Arpad Magayrosi and Elod Toase – worked for Shell in Mayo. It is from the police interrogations of the captured men that information about the group has been gleaned. Revesz, who may be back in Ireland, is believed to have been in charge of the heavily-armed group.
Revesz, the group's apparent leader, had left Bolivia before the police closed in. It was while working for Shell on the Corrib gas project that he is believed to have recruited Dwyer.
Bolivian police are understood to be searching for two other Hungarian men involved in the plot, Gabor Dudog, and Daniel Gaspar, both of whom also worked as security guards for oil companies. Dudog is said to have spent time working for Shell in Ireland.
READY CASH
Bolivian authorities are still trying to find out who was paying for the group to stay in hotels in Santa Cruz where they had been for some months. Dwyer bought himself a BMW car while he was in Bolivia and he and the other mercenaries seemed to have a lot of ready cash. They were also supplied with a range of weapons and can be seen flaunting them in pictures found after the raid.
Revesz is being hunted by police in Hungary and it is thought he may be the only one who can say where the money was coming from. Shell would certainly benefit from seeing a change of government in Bolivia, where the socialist government recently took charge of the country's pipeline system, formerly in the hands of the British company.
Bolivia's extensive natural resources, previously controlled by foreign multinationals, have also been nationalised by the left-wing government. Shell has armed and paid mercenaries in the past, notably in Nigeria, but connections between the company and the Bolivian plot don't amount to more than the Corrib gas project...  at least until the police catch up with Revesz.
Revesz is a leading member of a neo-nazi group called the Szekler Legion. Among other things, this group has been responsible for racist attacks and is known to organise training in weapons and tactics for fascists from across Eastern Europe.
Members of the group saw action fighting as mercenaries for Croatia in the Balkan wars in the 1990s. Many of the security guards employed by Shell on their sites at Bellinaboy and Glengad in Mayo are from eastern Europe but it is not known how many of them are members of the Szeklar Legion or other neo-Nazi groups.
Recently, security guards working for Shell in Mayo have been posting homemade videos on YouTube and, in at least one, an eastern European guard can be heard referring to the local people as "Irish pigs".
FIANNA FÁIL
There are virtually no background checks performed on security guards in Ireland. It seems that the Shell project has been infiltrated by racist and fascist elements, at least some of whom were involved in a plot to topple the democratic government in Bolivia.
Sinn Féin Foreign Affairs spokesperson Aengus Ó Snodaigh says he wants to see "an urgent state investigation into what these extremists have been doing in Mayo and whether proper security checks have been followed".
Many commentators have questioned the behaviour of senior Fianna Fáil members in the aftermath of the police raid.
Government minister Dick Roche, admitting he had never actually met Dwyer and knew nothing about him, eagerly went on radio to say he was a person of good character and could not have been involved in a paramilitary plot. Roche's extraordinary defence of Michael Dwyer and the way Dwyer's involvement has been played down suggests to some that perhaps some people knew more about this subject than they were admitting.
The same company that supplies security guards to Shell and which employed Dwyer, I-RMS, set up by Irish ex-special forces soldiers, also carried out security duties at the recent Fianna Fáil ard fheis in Dublin.