11 June 2009 Edition
Arrests over Fullerton murder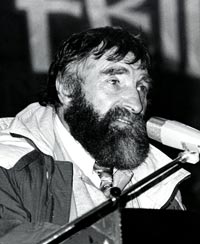 TWO men arrested by the PSNI in connection with the murder of Sinn Féin councillor Eddie Fullerton in County Donegal 18 years ago were released without charge on Tuesday night.
A 41-year-old man had been arrested at Drumahoe near Derry City at the request of gardaí. It has been reported that a second man, aged 45 was arrested a short time later when he presented himself to a police station in County Antrim.
The two men were questioned at the serious crime suite in Antrim before being released unconditionally, according to the PSNI.
Donegal Councillor Eddie Fullerton was shot dead in an attack at his home near Buncrana, County Donegal in 1991. The murder was later claimed by the unionist paramilitary group, the UFF but the involvement of official British state forces has always been suspected.
Eddie Fullerton's daughter, who has led the campaign to bring her father's killers to justice, welcomed the police action. She said it was movement in the case. It was a development and the first arrests in relation to the murder of her father since he was killed.
"The investigation in the weeks, months and years following Dad's murder went nowhere. The family has always felt that, had Dad been a councillor for any other party, the killers would have been brought to justice", she said.
The Fullerton family has consistently claimed that there was State collusion in and a subsequent cover-up of the murder.
Eddie Fullerton was an extremely popular local representative who was well liked by people of all political persuasions. The gang who murdered him smashed their way into his home by using a sledgehammer.
Commenting on the arrests, The North's Deputy First Minister and Sinn Féin MP Martin McGuinness said the development was due to the persistence and perseverance of Eddie Fullerton's family who he said had refused to buy lies and who have campaigned tirelessly for the truth.
"The loyalist murder gang responsible were allowed to escape and kill again. The Fullerton family have been badly let down by both policing systems North and South in the years since", McGuinness said.
"Despite all of the blockages to justice, the Fullerton's have maintained their dignity and brought their campaign for the truth to every forum in Ireland and beyond.
"It is my hope that these arrests today will mark the beginning of the emergence of the truth surrounding Eddie's murder and the subsequent failure of the Guards and the RUC to rigorously pursue his killers."
Donegal Sinn Féin Councillor Pádraig Mac Lochlainn, who has spoken to the Fullerton family today, said they were hopeful that these arrests represented a significant breakthrough.
"Sinn Féin will continue to stand shoulder to shoulder with the Fullerton family and provide them with every support and encouragement until they receive justice and establish the truth into the circumstances before and after Eddie's murder,' he added."