11 June 2009 Edition
Doherty thrown out of Seanad in Foinse row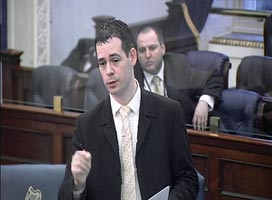 The Irish language newspaper Foinse is likely cease publication unless further funding is provided by Fóras na Gaeilge – a state agency that supports Irish language groups and activities.
It was announced at a meeting at the newspaper's headquarters in Carraroe this week that next Sunday's Foinse will be the final edition unless a bigger state grant is provided.
Most of the publication's ten full-time staff work out of its Carraroe office, and it has a pool of up to 50 freelance journalists.
Sinn  Féin  Senator Pearse Doherty was asked to leave the Seanad Chamber on Tuesday after repeatedly calling for the Taoiseach to explain why he  will allow the only Irish language newspaper to disappear from Ireland.
Doherty was speaking in relation to the winding down on Foinse this  week due  to  a  lack of funding and despite Brian Cowen's public commitment to the Irish language in his maiden speech as Taoiseach.
He  said,  "It  is  an  absolute  outrage  that  the only Irish language newspaper left on this island will disappear at the end of the week.  We have already seen Lá Nua, the daily Irish language newspaper, disappear.
"This goes to the very heart of the future of the Irish language on this island. The  Taoiseach,  who proclaims he supports the rejuvenation of the  Irish  language,  must explain how, on his watch, he will allow the second and last Irish language newspaper to disappear from the island of Ireland?"