21 May 2009 Edition
THE JULIA CARNEY COLUMN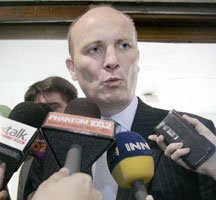 Where would we be without Libertas?
YOU can imagine the sober mood in RTÉ a couple of years back as they contemplate their Lisbon referendum coverage. This inescapably mad notion of giving both sides of the debate equal time - 'Why, oh why, oh why, will the potato-eating monkeys not just do what Fintan O'Toole tells them?' our RTÉ heroes lament - means that Sinn Féin, as the only significant party opposing the Lisbon Treaty, will have a huge opportunity to set out its stall on Europe, workers' rights and neutrality.
At Stickie Central in RTÉ, the mood is not good.
"If only," a depressed RTÉ executive whispered forlornly, "If only there was a businessman, because you can trust businessmen, with more money than God and some snappy suits. Then we wouldn't have to give the Shinners, the commies, the lefties and the lunatics so much airtime."
"Even better," said another. "After we built him up we could tear him down once we uncover links to dodgy business practices in eastern Europe and links to the US military-industrial complex."
Those of you with memories longer than journalists will remember how the arrival of Declan Ganley and the mysterious Libertas sect the December before the Lisbon referendum was greeted with ill-concealed joy. From nowhere appeared a mysterious man with an odd accent, no explanation for his wealth and no political organisation.
"That man," said RTÉ, "is the leader of the No campaign." Forget about the political parties with organisations and track records on the issue. Ignore long-established groups like PANA, the Peace and Neutrality Alliance, and AfrI, which has been campaigning for years. Elevate the man in the pinstripe suit. Because he's the reason working-class Dubs and people along the border counties rejected the Lisbon Treaty. The rich guy with the mad staring eyes and English accent.


OF COURSE, it wasn't all about keeping the Shinners off the airwaves.
Part of it was simply that Ganley was (perhaps still is) a rich businessman and in those pre-recession times nothing said "I'm important, deserving of attention and you can trust me" to an Irish journalist more than being a rich businessman with ill-explained wealth. I think it's a fetish they're close to getting over.
I have some sympathy with Declan. We share some common ground. Like him, I'm opposed to European integration and the loss of democracy. I'm also concerned about losing control of our tax rate. And, like Declan, I'm 100% against the EU taking my three-year-old child away to a re-education camp in Strasbourg.
Dead against it. I'm also against alien invasions, evil witches and Lord Voldemort from the Harry Potter books, but I don't vote on the back of it.
And what of Libertas's other candidates?


THERE'S Caroline Simons in the Dublin constituency whose face I see on seven (I counted) billboards on the way into work every morning and who creditably and bravely has clearly chosen not to have anything photoshopped. The Times today reports that Libertas has spent €430,000 so far on billboard advertising. Cunningly, those foxes, they spent a lot of it before the 29 April deadline for accounting for spending but it doesn't seem to be working. Simons is sitting on 1% (yes, that's one) in Dublin, about to mount her challenge any... day... now.
But what do we know about Caz? Well, we know she's a lawyer for the 'pro-life movement'. We don't know this because she tells us. Oddly enough, it doesn't appear on her literature but there was a time when she was proud of it, doing her utmost on behalf of the Youth Defence types of Ireland trying to bring us back to the 19th century.
Leaving us with Raymond O'Malley, currently trying to get elected on the back of whipping up anti-immigrant sentiment in the East constituency. At a time of recession, the last thing we need is people in working-class communities hit hard by Government cutbacks being set upon each other. The only people who win on the back of that are the Government and the race-baiters in Libertas.
But, despite polling in the low single digits in Dublin and South, and the Libertas leader seemingly not even in the running for a seat in North West, the media can't stop picking at the scab.
Last weekend, the Sunday Tribune gave a two-page spread solely over to Libertas. The Irish Times seems to have put Jamie Smyth and some of their political team on a daily Libertas watch. Libertas representatives pop up on the media far more often than their meagre two and three per cent polling would indicate.
Sure, it's critical coverage but those of us generally on the side generally disliked by the Irish media know that it's better to be attacked by them than to be ignored by them. In the case of the Irish Times, it's actually a vote-winner. An organisation and a man given political credibility who should never have been given it and once built up by the media, now they must tear him down.

An Phoblacht Magazine
AN PHOBLACHT MAGAZINE:
Don't miss your chance to get the second edition of the 2019 magazine, published to coincide with Easter Week
This special edition which focuses on Irish Unity, features articles by Pearse Doherty, Dr Thomas Paul and Martina Anderson.
Pearse sets out the argument for an United Ireland Economy whilst Pat Sheehan makes the case for a universally free all-island health service.
Other articles include, 'Ceist teanga in Éirinn Aontaithe', 'Getting to a new Ireland' and 'Ireland 1918-22: The people's revolution'.