21 May 2009 Edition
Reality of recession on the doorsteps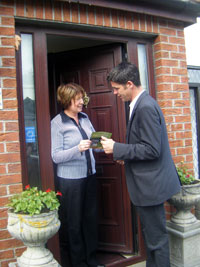 BY MÍCHEÁL Mac DONNCHA
Having been involved in over a dozen elections - local, general, European Parliament and by-elections - in the space of 26 years I have never seen anything like the anger towards Fianna Fáil and the Green Party that we are finding in the current contest.
People are feeling betrayed and exploited and it's personal. They tell you their stories readily and the stories collectively make up the reality of Ireland in deep recession.
One of the first people I canvassed in my home area of Kilbarrack works in a major Dublin hospital. She is in the sterilisation department where they ensure that surgical instruments are pristine before use. They are feeling the effects of the recruitment embargo in the health service. Recently one of the staff in the department left and will not be replaced. This naturally puts more pressure on the others working in the department. This woman worker's two grown-up children live at home and have recently been laid off from well-paid jobs. They are now dependent on their working parents. One of them was waiting ten weeks before he got his jobseekers' allowance.
Another household in another part of the constituency was also feeling the effects of several aspects of the recession. The mother works in a local school where the special needs classes have been cut. She spoke with genuine emotion about the damage this does to children who have benefited so much from the class. Her own two children have become unemployed and, again, had been waiting 10 weeks for the Department of Social Welfare to sort out their 'dole'.
redundancy
Another woman worker faces redundancy in a couple of months time and she went to the Social Welfare Office to see what she would need to make her claim when the time comes. She was told she will be waiting 12 to 14 weeks before she gets a payment!
Like so many tens of thousands of others, I was unemployed in the 1980s and I recall that dole claims were sorted out in less than a fortnight - and that was without computerisation. Bewildering bureaucracy, it seems, has been another legacy of the dysfunctional 'Celtic Tiger' economy.
People have no doubt about who is to blame and the name of Fianna Fáil is dirt on the doorsteps. Many people say they "can't wait" until the elusive Fianna Fáil canvassers come up the garden path. Some people have signs in their windows. One sign said the householder could reach the gate in three seconds. "Can you?" it asked the would-be canvasser from Fianna Fáil. Today I heard of a Sinn Féin canvasser, mistaken for a Fianna Fáiler and threatened with a hurley, before the mistake was discovered and the householder welcomed our man.
As well as all of this there is much cynicism and disillusionment and the familiar chorus of "politicians, you're all the same" is still heard. Fianna Fáil will be banking on this kind of thinking plus their ability to mobilise their hard core vote in the last few days of the campaign to save them from a total wipe-out.
But for them it can only be a damage limitation exercise while we now have 14 days left to give Fianna Fáil the greatest beating it has received in its entire history and, just as importantly, to take a giant step towards a strengthened Sinn Féin and new politics for real change. 
An Phoblacht Magazine
AN PHOBLACHT MAGAZINE:
Don't miss your chance to get the second edition of the 2019 magazine, published to coincide with Easter Week
This special edition which focuses on Irish Unity, features articles by Pearse Doherty, Dr Thomas Paul and Martina Anderson.
Pearse sets out the argument for an United Ireland Economy whilst Pat Sheehan makes the case for a universally free all-island health service.
Other articles include, 'Ceist teanga in Éirinn Aontaithe', 'Getting to a new Ireland' and 'Ireland 1918-22: The people's revolution'.