21 May 2009 Edition
Local election launch: Changing the balance of power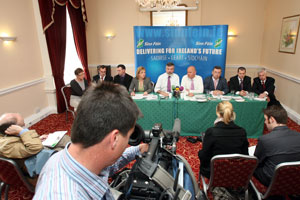 SINN FÉIN is contesting more than 250 local government seats in the 26 Counties next month, seeking to build on the gains the party made in 2004. It is particularly looking forward to gain new seats on county and city councils in Limerick, Westmeath and Wicklow.
However much they try to distance themselves from the Government, Fianna Fáil councillors are representatives of their party and must be held accountable for their party's actions, Gerry Adams said at Sinn Féin's local election campaign launch this week.
Gerry Adams said Sinn Féin is standing on a strong record of delivering for local communities and on a manifesto which is about transforming local government in the interests of the people."
He said that communities  are  under  huge  pressure from the neglect and mismanagement at state level which is being replicated locally across Ireland.
"Cutbacks and a lack of investment are undermining local service delivery. More than 40,000 households are on social housing waiting lists and regeneration projects in Dublin have collapsed. Many roads in country areas are sub-standard. There are huge concerns over the provision of water in Galway and Clare.
"But good decisions in local government can make a positive difference in people's lives. To deliver change locally means electing people who will stand up for local communities. It means changing the balance of power on councils across the state where Fianna Fáil and Fine Gael have dominated for decades."
ANGER AT FIANNA FÁIL
There is huge anger at the Government, Gerry Adams said, and many Fianna Fáil candidates are trying to distance themselves from their own party.
"They need to be held to account in every single electoral contest across the state," Gerry Adams said.
"They are not running as Independents - they are running as representatives of the leading party in government. If people are angry at the Government, if they want to send them a message that change is needed, then call on them to vote Sinn Féin."