21 May 2009 Edition
The Mitchel McLaughlin Column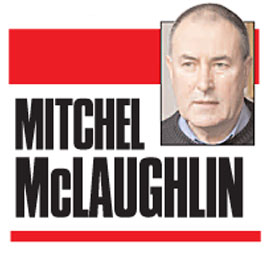 Focus should be on small business, workers' rights and green jobs
ONCE again the people of Ireland are facing challenging economic times, not least for our small businesses (SMEs), and Social Economy Enterprises (SEEs), whose future is fundamental to the economy. How we respond to the challenges facing SMEs and SEEs will be crucial in the time ahead as they represent 98% of businesses employing hundreds of thousands of people on this island.
Common sense should dictate that our focus in the present conditions should be on encouraging and assisting local manufacturers and SMEs to invest in Research and Development, invest in the green economy and seek export markets. The European Commission's Economic Recovery Plan contains concrete proposals of particular interest to these enterprises.
We need to redirect major investment incentives presently devoted to attract Foreign Direct Investment towards assisting indigenous companies to upgrade their operations and enable them to compete with the foreign companies monopolising our export markets.
But while supporting SMEs we must at the same time address workers' rights. Sinn Féin will use every available avenue to ensure the rights and entitlements of workers are defended and upheld.
In recent years, the tendency by government has been to weaken the rights of workers and the ability of trade unions to negotiate better working conditions. Current EU policy not only permits unacceptable employment practices and lower wages but also the liberalisation of public services.
Sinn Féin has specifically challenged EU directives that would have, for example, undermined working conditions in Irish ports, the fishing industry and other areas. We have stood shoulder to shoulder with workers across Ireland and challenged employers such as Visteon who failed to give workers their full entitlements in relation to redundancy payments and pension rights.
Promoting ideas for job creation recently, Sinn Féin MEP Bairbre de Brún called for the setting up of a new joint Assembly committee to look at job creation through the use of renewable energy. It would bring together members of the Enterprise, Trade and Investment Committee, the Agriculture and Rural Development Committee and the Employment and Learning Committee. Obviously, the most effective way to take forward this agenda is on an all-Ireland basis, working closely with colleagues on the Sub-Committee on Job Creation through Use of Renewable Energy Resources in the Oireachtas
There is real job potential in the renewable energy sector but it will not happen unless we adopt a strategic approach. Ireland is blessed with an abundance of natural resources required to develop renewable energy; what is required is focused development and use of our skills and expertise to make the most of them. We need to fully explore the potential of renewable energy for job creation. We can become world leaders not just in the generation of renewable energy but also in developing the technology and producing and selling our products across the world. But I firmly believe that it should not be a singular focus on large-scale production but should encourage small-scale farming and rural community-based initiatives.

An Phoblacht Magazine
AN PHOBLACHT MAGAZINE:
Don't miss your chance to get the second edition of the 2019 magazine, published to coincide with Easter Week
This special edition which focuses on Irish Unity, features articles by Pearse Doherty, Dr Thomas Paul and Martina Anderson.
Pearse sets out the argument for an United Ireland Economy whilst Pat Sheehan makes the case for a universally free all-island health service.
Other articles include, 'Ceist teanga in Éirinn Aontaithe', 'Getting to a new Ireland' and 'Ireland 1918-22: The people's revolution'.