14 May 2009 Edition
Sinn Féin supports ICTU rally as protests continued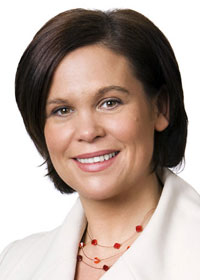 BY STEPHANIE LORD
Sinn Féin vice-president and Dublin MEP Mary Lou McDonald led Sinn Féin's contingent on Saturday's Irish Congress of Trade Union rally held in Dublin to mark International May Day. At the rally Sinn Féin distributed the party's 10-Point Plan for supporting workers through the recession.
McDonald noted at the event, "Don't let this government punish you for their mistakes. Stand up for yourself and stand up for each other. Irish workers are carrying the burden of the economic crisis: low paid workers being asked to pay an income levy that cuts deeply into their pay packet; construction workers unable to access alternative employment because the government failed to put in place retraining opportunities; ordinary workers with excessive mortgages trapped as their houses go into negative equity; ordinary public sector workers are being subjected to endless criticism from the government and Fine Gael in an effort to create the impression that they are in some way responsible for the economic mess Ireland is in."
The Dublin Candidate for the European Elections continued: "But the current crisis offers us an opportunity – an opportunity to reshape this state. We need to be coming out of this crisis with the infrastructure, skills and public services that will put us at the top of competitiveness rankings and that will deliver improved quality of life for all our citizens. But to deliver this new approach Ireland needs new leadership at the helm. We need a rearrangement of Irish politics and a sense of duty and accountability from all elected representatives. And we must never forget that it is the skills and efforts of workers that will enable us to build a better future."
Following this, members of the Unite trade union mounted a demonstration against government inaction on jobs at the Dáil on Tuesday. The protest marked growing frustration among trade unions and workers over a lack of government action on saving existing jobs, keeping people off the dole and protecting workers with a pension protection fund.
"This government is bound by EU law to introduce pension protection, and by the will of the people to act in the best interests of the country," said Unite regional secretary, Jimmy Kelly, who led the protest. He echoed Mary Lou McDonald's comments by saying, "They talked and listened but did absolutely nothing to save workers' jobs and pensions at Waterford Crystal.  They watched and waited but did absolutely nothing as SR Technics commenced shutting down 1,100 skilled jobs at Dublin Airport. They need to wake up to the fact that borrowing to subsidise unemployment and bail out banks will not work. They need to wake up to the fact that the only path ever taken successfully out of recession has been to keep people in work, and stabilise finances through increased tax revenue. Working people are losing patience with their lack of action."
Head of IMPACT public sector union Peter McLoone also stated that the Government must respond by next week with a concrete response that will prevent further job losses. He believes that the unemployment rate will reach 584,000 by the end of the year. He said that continued cuts and lack of agreement on an economic recovery plan could lead to industrial action.