14 May 2009 Edition
Call to re-nationalise Eircom as 1,200 jobs are lost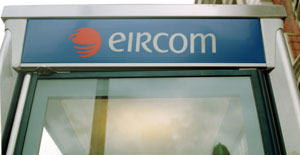 A TOTAL of 1,200 workers are set to lose their jobs at Eircom in a drastic cost-cutting exercise.
Eircom said this week that the proposal is the first stage of its cost-cutting plan and includes cuts of up to 25pc in allowances, including subsistence and mileage rates.
Staff will not get performance related annual bonus payments over the next two years, a situation that will not be reviewed until June 2010.
Eircom said the economic environment had "dramatically deteriorated" and had a significant "adverse impact" on Eircom, which has a debt burden around €4bn.
Communications Workers Union General secretary, Steve Fitzpatrick, said:
"We've been forced into agreeing to cost savings to protect as many jobs as possible because of the financial situation the company finds itself in," he said. "How many workers will take a voluntary redundancy package given the state the jobs market is in?"
Sinn Féin spokesperson on  Employment  and  Workers  Rights, Arthur Morgan TD has pointed  to the privatisation of Eircom as a cause of job losses and the country's  inadequate broadband infrastructure.  He called for Eircom to be  re-nationalised  rather  than handed over to another self interested multinational.
Morgan said, "The announcement of 1,200 redundancies at Eircom is yet  another  example  of  the  disastrous  privatisation of the state telecommunications network.
"Privatisation  of  Eircom  has  been  disastrous:  the  quality  of our broadband infrastructure is below the EU average while vast parts of the country remain without a broadband connection whatsoever.
"The Irish  economy  and  workers  are  suffering  because  Eircom  is controlled by a self-serving board of management.
"Eircom should be nationalised rather than handed over to another self-interested multinational."