14 May 2009 Edition
Use Pension Funds to Build Schools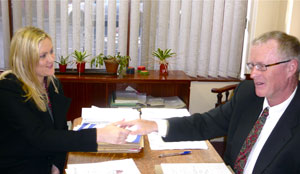 SINN FÉIN EU Candidate for Ireland South Toiréasa Ferris has called on the Irish Government to actively pursue the offer by the Irish Pensions funds that they would be prepared to invest up to €6 billion over the next three years in a range of State infrastructure projects as part of a plan that could secure about 70,000 jobs in the construction industry.  In particular the funds should be considered for building and upgrading schools.
Toiréasa Ferris said:  "The government need to get their finger out and look seriously at how the offer by the Irish Pension Funds to provide up to €6 billion for infrastructural projects in Ireland could be utilised."
"Many schools across Munster are in a terrible condition, dependant on temporary accommodation. Many are unsuitable for the purpose of educating children.  Investing in these schools would be investing in future generations.  With education such a vital part of new economies, Ireland would be at an advantage to attract new investment."  
"Building schools now would invest funds into communities across Ireland on a democratic basis, not just into flagship projects in Dublin. Unfortunately here in West Cork we have our share of poor school buildings which urgently need upgrading.
"A school building programme would also be a massive jobs boost across the region, which could help build more sustainable and badly needed employment."
"The offer by the Irish Pension fund is an opportunity to get access to serious capital at a difficult time on the world market and should be pursued actively by the government."