14 May 2009 Edition
MPs' expenses row: Sinn Féin hits back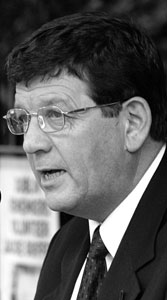 THE expenses row engulfing MPs at Westminster after reports published in the right-wing Sunday Telegraph included claims about Sinn Féin MPs' costs have been described by West Tyrone MP Pat Doherty as a deliberate attempt to misrepresent the situation in the run-up to an election.
"If only all the other parties were as open and transparent as Sinn Féin," he said.
Pat Doherty said on Sunday in response to the reports::
"It is widely known that Sinn Féin MPs travel regularly to London on parliamentary business and utilise the accommodation that we rent when there. We do not purchase properties at public expense and therefore do not profit from the expenses claimed as of right."
Noting the outrage in Fleet Street that republican MPs do not take their seats in Westminster, he explained:
"Sinn Féin makes no apology for refusing to sit in the British House of Commons. The abstentionist position is the one supported by the vast majority of nationalists and republicans in the Six Counties. We also make no apology for ensuring that those people who vote for Sinn Féin get the same democratic entitlements as everyone else.
"Sinn Féin is unique in that we are the only political party that voluntarily publishes our financial accounts annually in the interest of openness and transparency. If only other parties would do likewise then the public might have more confidence in their public representatives."
He pointed out that Sinn Féin MPs, MLAs, MEPs and TDs receive an average industrial wage. All other finance goes into providing "first-class constituency services" for the people and the electorate.
"All waged members of Sinn Féin, including MPs and ministers, receive the same salary. Today's story is nothing more than a deliberate attempt by the Tory-led media to misrepresent Sinn Féin in the run-up to an election, no doubt in the hope that the spotlight will move away from them. Sinn Féin will not allow our open and transparent position to be misrepresented in this fashion."