14 May 2009 Edition
FERMANAGH/SOUTH TYRONE: Jim Gibney back with the communities who elected Bobby Sands as 'The People's MP'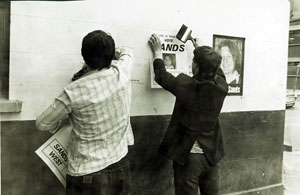 The Hunger Strikers' sacrifice will not be in vain
FERMANAGH/SOUTH TYRONE was the constituency that made all the world aware of the 1981 Hunger Strike and the struggle for the restoration of political prisoner status when it elected IRA Volunteer Bobby Sands as its Member of Parliament. It was also where Jim Gibney, a comrade of the Hunger Strikers, says he cut his political teeth. In fact, it was Jim who phoned Gerry Adams on learning of the death of Frank Maguire MP to say the Republican Movement should seriously consider standing Bobby Sands in the subsequent by-election.
Last week, Jim returned to Fermanagh/South Tyrone to address a crowd who gathered in Killesher Hall to pay tribute to the heroism of Bobby Sands, the Hunger Strikers and their families. And Jim paid tribute also to the hundreds of thousands of people who stood with the Hunger Strikers against Margaret Thatcher and the might of Britain.
This is what Jim Gibney said.
'THERE is not a day goes by that I don't think of Bobby Sands and the other Hunger Strikers. All of us here and beyond know the huge part they played in the history of the struggle for a united Ireland. Twenty-eight years later, their sacrifice is remembered by the republican people of Ireland and abroad and Bobby Sands in particular is an international icon for freedom and for oppressed people throughout the world. But for me there is a very deep personal connection between the Hunger Strikers and myself.
I visited Bobby several times before he went on hunger strike and when he was on hunger strike. I also visited Francis Hughes, Raymond McCreesh, Joe McDonnell, Martin Hurson and Tom McElwee while they were on hunger strike. I was interned in the same cage with Kieran Doherty in the early 1970s and we were on the same landing in Crumlin Road Jail in 1976.
It is just like yesterday, I vividly recall holding Bobby's hand as he lay in bed a few days before he died while he bid me farewell with the message for the republican leadership outside that he was seeing his hunger strike through to the end.
I can still see Francis Hughes lying on his bed, desperately ill, telling his brother, Oliver, and mother that Margaret Thatcher had better prepare for coffins coming out of the H-Blocks because he was not coming of hunger strike. On one visit with Raymond McCreesh he asked me had Francis died the night before because he had put in what Raymond described as an horrendous night the night before. Raymond knew that he too was facing that awful reality.
Patsy O'Hara was in the INLA. They had their own appointed people visiting them. I never visited Patsy but one day, coming down the corridor of the prison hospital, I saw him in a darkened cell. He was frail and in a wheelchair. He was wearing a multicoloured bathrobe and he waved at me and flashed a smile with the brightest of teeth I'd ever seen.
I regret to this day that I didn't go into his cell and shake his hand or hug him. I was worried a scene could be created and that the warders would refuse me permission to visit the other Hunger Strikers.


JOE McDonnell refused to give me details about his health on his 18th day of hunger strike. He was more interested in who I was dating at the time – in jail parlance, Joe was a 'raker' and a 'slagger'.
Martin Hurson sat across the table from me with the broadest smile on his face with his mouth covered in toothpaste. He had rushed out of his wing to see me and in the haste had forgotten to properly wash away the paste!
Tom McElwee was a first cousin of Francis Hughes. Their parents' farms were beside one another on the Scribe Road in Bellaghy. As schoolboys they played together in the nearby fields. They died beside each other in separate prison cells, a distance of some few yards. I recall Tom telling his mother and sister that he would not be going back to the H-Blocks without the five demands.
Kieran Doherty was a huge man; his nickname was 'Big Doc'. He was a quiet-spoken, gentle soul but he was as tough as steel, a good man to have when you were in a tight spot. There was no tighter spot than the H-Blocks prison hospital in the summer of 1981.
We also must remember two other Hunger Strikers: Michael Gaughan and Frank Stagg. In prisons in England, far from their families and friends, Michael died in 1974 and Frank in 1976.

Bobby was 27, Francis 25, Raymond 24, Patsy 23, Joe 30, Martin 24, Kieran 25, Tom 23, Kevin 25 and Mickey 27 – their average age was 25. Michael Gaughan was 23 and Frank Stagg was 28. Ireland's youth, they gave so much so young.


THE Hunger Strike of 1981 lasted seven months. It began on 1 March and ended on 3 October.
It was a human and political drama on an epic scale. Never before in the annals of Irish history, in the long struggle by the people of this country for freedom and independence, had such heroism and self-sacrifice been seen.
It all took place inside a small building with a low ceiling and a narrow corridor, little more than 20 yards long by 3 yards wide with six or so cells on either side. A few strides would cover its length and if you stretched out your arms you could almost touch each wall.
There is no description, no words of mine, can convey what life was like inside that tiny piece of space for those long seven months.
From the day Bobby died in his prison cell in the hospital wing, the parents and the families of the other Hunger Strikers had to pass by his cell to visit their loved ones in the knowledge that Bobby never came out of that cell alive. As each Hunger Striker died and was replaced by another, the number of cells which had become tombs for the prisoners grew in numbers.
The agony for the parents and the families of the Hunger Strikers must have been unbearable yet they held to their sons' wishes and in the case of Joe McDonnell his wife, Gorretti, supported them to the end.



THE partition of Ireland and the centuries of history of the occupation of our country by the British Government bore down on the Hunger Strikers and their families in that tiny space a few miles from Belfast, a place which has been preserved and in time people can visit it and see where 10 heroes spent the last days of their lives.
The eyes of the world were locked onto this titanic struggle between a group of defenceless prisoners, their parents and families and Margaret Thatcher. It was an uneven contest. The prisoners and their families depended on their beliefs, their loyalty to each other, to a noble cause – Ireland's freedom.
The prisoners had only one weapon and that was their bodies and the personal sanction of hunger striking. Thatcher, on the other hand, had all the resources she needed at her disposal: armed forces, political support in the British House of Commons, and an unquestioning media and inveterate hatred of republicans.
While I have a special relationship with the Hunger Strikers I also know that the people of Fermanagh/South Tyrone have a special place in their hearts for Bobby Sands. After all, you did elect Bobby as your MP. I had the privilege to work in that election campaign. It was in that election campaign that I cut my teeth and many others – like Gerry Adams – picked up an invaluable experience from this constituency.
Tonight I would also like to pay tribute to some of the people I met during Bobby's election: the Gleeson Family, particularly Loretta and her husband, Jimmy; Bernadette McAliskey; Francie Molloy; Owen Carron; Joe McConnell, who slept overnight with the ballot boxes stuffed with ballot papers to protect the people's decision from being interfered with; Seamus Grimes from Coalisland; Pat Cox, who kept me and fed me for weeks; the late Tommy Murray, an SDLP councillor who signed Bobby's nomination papers and was hounded out of the SDLP for doing so; the late Noel Maguire, who most graciously stood aside and left Bobby Sands a free run in the hope that, if elected, his life and the lives of others would be saved. Finally, the late Frank Maguire MP, who in life did so much to help political prisoners and whose death marked a turning point in our history.


WE must never forget Thatcher's intransigence led to deaths outside the H-Blocks: over 60 people died during the seven months of the Hunger Strike.
We must remember the 30,497 people who voted for Bobby and elected him as MP. They were a credit to themselves, to the Hunger Strikers and to the struggle for Irish independence.
We did not know it at the time but the election of Bobby Sands fundamentally changed the republican struggle. The freedom struggle was given a tremendous boost at home and abroad. Bobby's election was followed by the election of Kieran Doherty and Paddy Agnew as TDs  to the Dáil and, later that year, Owen Carron held on to Bobby's seat with an increased majority.
These were spectacular results for republicans. They opened up an entirely new arena of struggle for republicans. They gave the leadership of Sinn Féin the confidence to adopt an election strategy; on foot of this the Sinn Féin party of today began to be built. Sinn Féin looked again at how to build itself again in the 26 Counties and out of that the party changed its abstentionist policy and returned TDs to Leinster House.
The existence of Sinn Féin as a formidable political voice allied to the equally formidable armed struggle by the IRA eventually led to the IRA leadership calling its cessations followed by the Peace Process and the changes we have today.
There is a clear historical link between the Hunger Strikers' deaths in 1981, the election of Bobby Sands MP, the unprecedented times we are currently living in and the constituency of Fermanagh/South Tyrone – and the people here played a massive part in creating today's conditions.
Sinn Féin is now the leading nationalist party in the Six Counties. Michelle Gildernew is both your MP and MLA and a minister in the executive with other Sinn Féin ministers. Never in our wildest dreams as we toured this county seeking votes for Bobby Sands 28 years ago could we have imagined that Martin McGuinness would be joint First Minister of the North with the DUP's Peter Robinson.
We now are part of an all-Ireland ministerial council where the Executive and the Irish Government meet, planning the future for all the people of this island. We have four ministers in the executive, 27 MLAs, four TDs, two MEPs and scores of councillors across this island.
Republicanism is stronger than it has ever been since partition.
The British troops are off the streets, their huge military bases along the border and elsewhere are gone. The RUC are gone, as is the RIR. There is a new police service in the PSNI and let no one tell you that they are the RUC under a new name – they are not.
The political prisoners were released. Most of those on the run or in exile are now home. These changes are not and cannot be ignored by republicans. The Ireland of today is not the same place as it was in 1981 or when I was growing up as a boy.
The injustice and repression that we all experienced no longer exists. Of course, there are issues related to the legacy of the conflict yet to be resolved, such as the truth for many hundreds of families whose loved ones were killed through collusion between the crown forces and loyalists.


IRELAND'S parties are today developing their democratic all-Ireland political institutions. Republicans have real power and we are using it to improve the quality of people's lives.
We are also using it to peacefully advance the cause of a united Ireland. That is the way forward and the only way forward. Armed actions have no part to play. There is no political space for those who use or advocate such tactics. Such actions only confuse and demoralise people and what we are about is giving people leadership, giving them hope for the future and for that reason we need to re-elect our current MEPs, Bairbre De Brún and Mary Lou McDonald, with an impressive majority and elect as many councillors in the South as possible.
They are following in the proud tradition of Bobby Sands and others.
We are as loyal to the Hunger Strikers' memory 28 years later as we were at the time. The people of their day did not let them down in their hour of need. The people of this constituency did not let Bobby Sands down; they rallied to the prisoners' cause and stood with them. We will not let their sacrifice be in vain. The struggle for a united Ireland continues until it is achieved. As long as there is life in our bodies, that much we can guarantee.'
MOMENT TO MAKE HISTORY: The start of the Fermanagh/South Tyrone by-election campaign with Bobby Sands as the H-Blocks candidate – Owen Carron (election agent), Gerry Adams, Bernadette McAliskey, Art McCaughey, Francie Molloy, Jim Gibney, Marcella Sands (Bobby's sister), Maura Kearney (mother of Hunger Striker Tommy), Rosaleen sands (Bobby's mother) and Councillor Pat McCaffrey