7 May 2009 Edition
Fógraí bháis: John 'Big Deuce' McMullan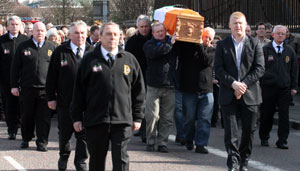 BY SEÁN MURRAY
WHILE mourning the untimely death of John, we must also ensure that we celebrate his life, for it was an eventful life: from the loss of his mother at the age of three, through his school days in St Mary's Primary School in Divis Street and subsequent education at Harding Street CBS to his initial employment as a joiner building Divis Flats in the 1960s.
As he experienced life as a teenager, a political time-bomb was ticking away unheard by his and my generation until the conflict exploded on the streets of Belfast in August 1969.
Like myself, John lived in an area that experienced the ravages of raw sectarian hatred as streets of nationalist homes were burnt to the ground in Percy Street, Dover Street (close to where John lived), Cupar Street, Norfolk Street and Conway Street, further up the Falls, and Bombay Street in the Clonard area.
This proved to be a massive watershed for John and for many young men and women of his generation.
Overnight, priorities changed from those of a normal teenager to those of an abnormal society, defence of the area and rapid politicisation as our generation said 'enough is enough' and we pledged to confront the Orange state, which conferred second-class status on us and our community, facilitated by British indifference to our plight.
'D' COMPANY
Like many young nationalists of that generation, John realised that the only way to effect political change, unlike today, was to join the ranks of Óglaigh na hÉireann, in his beloved 'D' Company, initially to develop a defence capacity for our areas as a forerunner to an intense military campaign which was to last almost 30 years, ending in a military stalemate.
He was a committed and courageous Volunteer who had the ability to inspire confidence and lift the morale of his comrades.
He had great presence and was renowned for laughing in the face of adversity, with the tendency to see the funny side of things, even in the most tense or dangerous scenarios with many comrades on the receiving end.
We all have our memories and stories of 'Big Deuce', some of which we share frequently, others we cannot reveal, but all of which we will cherish and take to the grave with us.
Our paths first crossed in January 1972 when Volunteer Danny O'Neill was shot and badly wounded by the Brits. He died three days later of his injuries. Danny was a comrade and friend of ours.
Not long after Danny was killed, Deuce himself was arrested and held on remand in Armagh Prison. When he was sentenced, John was sent to the Cages of Long Kesh.
However, John, like so many republican prisoners, was determined to escape and on one occasion he and a number of other prisoners made a bid for freedom from Newry Courthouse as they appeared in court. Among those to escape with Deuce was his good friend and future brother-in-law, Terry 'Cleaky' Clarke.
Unfortunately, most of the escapees were soon recaptured with John himself being retaken in Newry Cathedral.
BLANKET PROTEST
On his release in 1978 John immediately reported back for active service. Once again our lives intertwined as our roles in the struggle drew us together constantly and we became firm friends and comrades.
In 1980, he was arrested on active service and charged with possession of explosives and went to Crumlin Road Jail on remand.
As before, I was to follow in his footsteps and in January 1981 found myself in 'C' Wing on remand.
John had already been sentenced and sent to the H-Blocks where he immediately went on the Blanket and No-Wash protest. While in H3 he met up with some of his old comrades from the Cages such as Bobby Sands and Brendan 'The Dark' Hughes.
When I was sentenced and moved to the H-Blocks I once again crossed paths with John and, as usual, the craic was ninety as we relived old memories and sought new victims.
He loved the craic and was reputed to be the champion slagger of Long Kesh who took no prisoners. But he was also a very compassionate man who looked after his comrades, especially those who he recognised as being vulnerable and finding it hard to get their time in.
I am sure that his wife Chris, son John and daughters Lisa and Mandy, his grandchildren, sisters, cousins and extended family circle can attest to his love of life, compassion and concern for all of those he loved and cared for.
I measc laochra na gael a bhfuil sé.