7 May 2009 Edition
Condolences on death of Madge McConville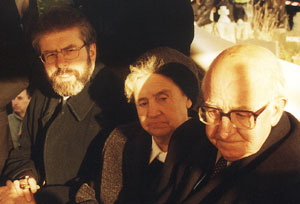 GERRY Adams has expressed his condolences to the family of veteran republican Madge McConville, who passed away on Monday, 4 May.
Gerry Adams said:
"Madge McConville was a republican all her life. She was imprisoned first in the 1940s along with IRA Volunteer Tom Williams, Joe Cahill and others. Tom Williams was later hanged by the British.
"Madge was a wonderful woman who kept faith with her republican beliefs over an immensely long time. She was born around the time of partition and spent her political life actively working for a united Ireland.
"Madge was a mother and grandmother and a great-grandmother. Along with her late husband, Tommy, she reared her family during the huge upheavals of our time.
"I extend condolences to Madge's family circle and to her many friends. Go ndéanfaidh Dia trócaire uirthi."