7 May 2009 Edition
Renewed call for public investigation as Visteon workers win deal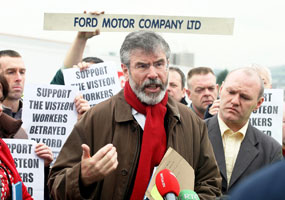 On Sunday 3 March Visteon workers occupying their west Belfast plant voted to end their 36-day sit-in protest over Visteon UK and Ford Motor company's reneging on their contractual obligations in redundancy payments and pensions. The Unite union said it had agreed to an improved redundancy offer from Visteon UK worth 10 times the amount originally offered.
Sinn Féin hosted an Adjournment debate in the Assembly the following day. Below is an abridged version of Gerry Adams's speech.
I would like, on behalf of the Assembly, to welcome workers from the west Belfast Visteon who are here with us today. They have conducted their campaign with dignity and unity.
As a result of these efforts and the public support for their campaign, the Visteon Corporation has been forced to negotiate a resolution.
The pay-off offered by Visteon goes some way to addressing the rights of their workers to redundancy packages. But even in this the Corporation has differentiated between workers.
Moreover, no effort has been made by Visteon or Ford to reinstate employment and manufacturing in Belfast.
Those companies still have to answer for the pension funds which belong to the workforce.
Sinn Féin believes that the closure of Visteon UK plant in west Belfast has not been a reaction to unprecedented financial difficulties.
It has been the result, if not the objective, of strategic decision-making by the Ford motor company in conjunction with Visteon Corporation, including Visteon UK.
I also believe that aspects of their behaviour amounts to fraud and corruption, and sharp practice and it is important that we seek to ensure that the relevant government and statutory agencies, including the Pensions Regulator, carry out the necessary rigorous assessments and investigations into the conduct of these companies.
On 31 March the directors of Visteon UK put their company into administration. That day, 210 men and women employed at the Belfast plant of Visteon were told that their jobs ceased to exist.
Their right to Ford terms and conditions, including the lifetime protection of their discretionary pension in payment increases, contained in the 'Agreement governing the separation of the Ford Visteon organisation', was binned by Visteon.
This was unacceptable and contemptible behaviour by the management of these two companies.
In light of this the workers rightly and courageously took over the plant and refused to leave until Ford and Visteon negotiated a satisfactory agreement on redundancy and pensions. They refused to be intimidated by threat of legal action and fought for their rights.
I want to congratulate the workers on their determined and principled stand against injustice and to commend them for the example they have set in defence of workers' rights.
Sinn Féin believes that Ford and Visteon have been engaged in corporate fraud.
This scandal has been a decade in the making.
Sinn Féin believes that it is in the interest of the workers, their families and the communities from which they come, that a full and rigorous investigation by the proper authorities is carried out into this scandal.