7 May 2009 Edition
Drug dealing thugs run riot in Dolphin's Barn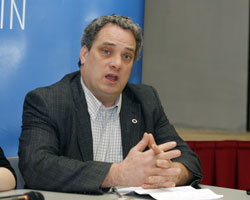 IN AN ATTEMPT to intimidate an entire community, drug-dealing thugs ran riot in Dublin's Dolphin's Barn, leading to calls from local Sinn Féin TD Aengus Ó Snodaigh for a united response from the people and the gardaí and for the promised regeneration of the area to proceed.
On the night of 26 April flats and cars of residents in Dolphin House were attacked and damaged and graffiti was scrawled on the outside of homes. The attacks were aimed at local residents who, in co-operation with the gardaí, have been actively seeking to combat drug-dealing in and around the flats complex. There had been an increased and effective Garda presence in the area and this incensed the criminal elements who are still trying to dominate the community.
On the evening following the initial attacks the Community Development Association called a public meeting which was attended by some 150 people. This further incensed the thugs who issued threats and phoned bomb scares to the venue which had to be evacuated. A suspect device was later found near the community centre. The thugs shouted abuse at residents and ran riot in the early hours of the morning, leading to clashes with gardaí.
Sinn Féin Justice Spokesperson Aengus Ó Snodaigh called for an emergency response from gardaí. The TD said drug dealers in the area have posed a direct challenge to An Garda Síochána and the rule of law and it must be met with a robust response:
"The events in Dolphin's Barn last night and early this morning are a direct challenge to An Garda Síochána and the rule of law. Local hoods, in an attempt to protect their drug-dealing cronies, have threatened to burn out the homes of community workers if gardaí come into the area.
"This challenge must be met with a robust emergency response for the gardaí. All powers available must be employed to restore normality to this community and to protect those individuals who have been targeted. This must include the emergency seeking of exclusion orders from the area against the dealers involved and swift enforcement against any subsequent breach.
"Before this situation escalates any further a meeting must be convened including the Minister for Justice, the gardaí, Dublin City Council and the community to agree a solution to the current crisis.
"There must be recognition that this situation is the product of years of neglect of the area by successive governments and of the collapse of regeneration prospects. Then regeneration of this area must proceed."