7 May 2009 Edition
The challenge of change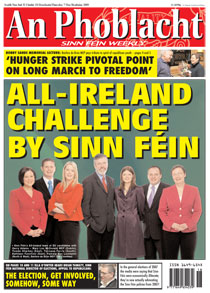 The EU election campaign across Ireland and the local election campaign across the 26 Counties begins in earnest this week.
The campaign takes place in unprecedented circumstances as the country plunges deeper into the greatest economic crisis in decades. That crisis has reached into most homes in Ireland with soaring unemployment, reduced wages, increased taxes, cuts in health and education and other social services.
Fianna Fáil has not known such unpopularity since its foundation in 1926. Voters are incensed at its dishonesty, corruption and incompetence. Brian Cowen, Brian Lenihan and company have not uttered a syllable of acknowledgement, let alone remorse, that any of their disastrous policies of the past decade led to the current crisis.
There is anger but there is also disillusionment with politics. So sickened are many people that they may not vote in elections which, in the past, have always had relatively low turnouts in contrast to general elections. "You're all the same" is a refrain still heard too often on the doorsteps.
But now more than ever it is vital to ensure the highest possible turnout on Friday 5 June. Working-class areas with traditionally lower voter participation have most to lose from opting out. They are suffering most in this recession and the Fianna Fáil/Green Government will breathe a sigh of relief if the message is apathy rather than anger, disillusion rather than determination.
But the momentum for change is there. The need for political change is more relevant than ever in people's everyday lives. Sinn Féin is leading the demand for change.
No effort should be spared between now and 5 June to meet the challenge of change and to give Sinn Féin a resounding All-Ireland vote.