30 April 2009 Edition
Workplace deaths far exceed official figures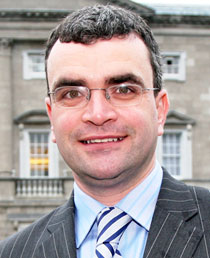 BY STEPHANIE LORD
SIPTU Safety and Health Advisor Sylvester Cronin has warned newly-appointed 26-County Junior Minister for Labour Affairs Dara Calleary that the area of occupational health and safety presents an immense challenge if workers are to be inadequately protected.
Cronin also welcomed the initiative being taken by the Irish Congress of Trade Unions in organising a conference this week to consider the Corporate Killing Report published by the Law Reform Commission in 2005. "The union fully supports its recommendations," he said.
Sinn Féin published legislation on corporate manslaughter based on the LRC recommendations in 2006.
Cronin called on the Government to officially acknowledge that work-related deaths in Ireland far exceed the official figures.
"According to International Labour Organisation statistics, these deaths amount to approximately 1,400 per year, yet Ireland's official statistics average around 60 fatalities per year.
"Ireland's official statistics count only those workers killed as a result of an accident inside the workplace. They omit to count deaths caused by work-related illnesses and diseases. They also exclude work-related deaths caused by road traffic accidents."
Further to this, he criticised the inadequacy of resources provided for workplace inspections. He pointed out that with 200,000 workplaces and only around 14,000 inspections a year, the SIPTU rep said that a workplace in the 26 Counties can expect a visit from a Health and Safety Authority inspector on average just once every 14.5 years.
REPORTING
Approximately 231 more days were lost in 2006 as a result of workplace accidents rather than strikes.
Sylvester Cronin added:
"In common with world leading occupational safety and health (OSH) institutions such as the European Safety and Health Agency, SIPTU believes that OSH is about preventing work-related accidents, illnesses and diseases to keep people in work. Over the recent past, an average of approximately 1.5 million workdays per year are lost because of accidents, illnesses and diseases, that is poor workplace safety and health standards."
According to recent Central Statistic Office figures, the number of days lost due to work-related illnesses and diseases has grown from 1.3 million in 2003 to 1.7 million in 2006 because of poor workplace safety and health standards.
SIPTU are now calling on the Government to bring forward legislation to ensure all work-related illnesses and diseases that cause more than three days' absences from work are reported so that increases can be halted and reversed.