30 April 2009 Edition
Investigation call as workers vow to resist eviction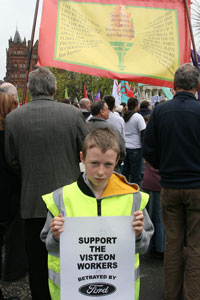 BY EMMA CLANCY
A legal attempt by Visteon administrators KPMG to evict protesting workers from their almost month-long occupation of the west Belfast car parts factory has been delayed. The protest began after Visteon sacked the 210 workers at the plant on March 31 with five minutes notice and announced it would not honour contractual redundancy and pension payments guaranteed to staff.
The administrator's High Court bid to evict the protesters has been adjourned until Friday as the workers seek more legal advice.
As more evidence has emerged of company plans to shut down the Belfast site since as early as 2001, Sinn Féin West Belfast MP and MLA Gerry Adams has called for a public investigation into the accounting and management practices of Visteon and auto-giant Ford, which Visteon was spun out of in 2000.
In January 2000, workers' representatives and Visteon management signed a contract stating: "For the duration of their employment, terms and conditions of existing Ford employees, who transfer [to Visteon UK] will mirror Ford conditions (lifetime protection)."
A leaked document from 2001 shows that "Project Stone" aimed to shut down the Belfast plant and outsource its work, with the company considering its options including an abrupt closure and relocation in 2001 or allowing "current products to run out in 2007 with no new business coming into the plant". Visteon opted for a third scenario, which the document states would carry less likelihood of the "risk of industrial dispute and/or sabotage" – to gradually downsize the plant.
Several hundred workers from the Belfast plant have been made redundant since 2001 and the workforce was reduced to 210 before being put into administration in March. Further leaked company documents from 2007 speak of "minimising information leaks" about plans to relocate Belfast operations to somewhere with "more competitive labour costs".
QUESTIONS
The plan to shut Belfast not only raises the question of why the workers were given five minutes notice but, more importantly, if Ford and Visteon had aimed to lay off the entire workforce, why were no steps taken to protect workers' investments in their pension fund? Why did Visteon management all conveniently manage to transfer their pensions to a new company, Visteon Engineering Services, which was set up in 2007 and continues to trade?
Speaking to Visteon workers last week, Gerry Adams said: "I have tabled a motion in the Assembly about the sharp practice of Ford and Visteon in bringing about the closure of the Belfast plant.
"I believe that there is an accumulation of information which raises profound questions about the management by Ford and Visteon of assets and finances, including pensions in which workers had invested. The information which is now emerging needs to be rigorously investigated.
"My office has been in contact with the Pensions Regulator. The Pensions Regulator is now examining the information and documentation which has been given to them about what the management of Visteon and Ford have been up to in order to determine what further action could be taken."
As the workers go through the fourth week of their sit-in, the support they have from the community remains unwavering. Thousands of people have joined rallies at the plant and in Belfast city centre and the workers have taken their protest to Ford showrooms and the homes of management. The workers have said they will resist any attempts to physically evict them from the site.
Speaking at the ICTU-organised solidarity rally at Belfast City Hall on 17 April, trade union leaders called for support for the workers at their plant should the legal bid to evict them win and the police move in to try to forcibly remove them.