30 April 2009 Edition
Ensure that your voice is heard and respected - Kathleen Funchion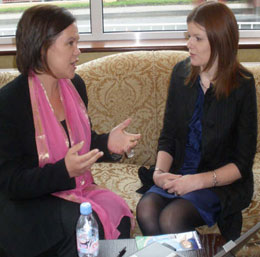 SINN FÉIN EU East and local election candidate for Kilkenny City, Kathleen Funchion has said that the upcoming European elections were about securing a strong European voice for Ireland at the European parliamentary table. Kathleen who attended a recent party electoral strategy meeting along with her Sinn Féin colleague Mary Lou McDonald MEP told those present:
"The European Union is a more dominant force than ever in the political, economic and social life of Ireland. Sinn Féin has a policy of critical but constructive engagement with the EU.
We want to build a Europe of Equals – a true partnership of equal sovereign states, co-operating in social and economic development in Europe and beyond. Ultimately, we want a future United Ireland to take an active, leading role in such a reformed EU" and she continued
"Sinn Féin, whether it be in Europe or throughout the island of Ireland, has continuously fought to have the voice of those we serve, our communities, respected and heard, and also to deliver strong effective efficient and accountable government."
The Sinn Féin representative who is also a local election candidate for Kilkenny City, focusing her attention on that area said in a direct appeal to the electorate:
"I intend to ensure that the voice of Kilkenny, your voice, is both respected and valued. There is a demand for change here in Kilkenny, and I as a Sinn Féin elected representative will help ensure that change.
"As a young working mother, I closely identify with the major concerns that exist throughout in relation to the current state of the economy and the impact that is having on all aspects of our lives and well-being. I am determined that together we will make the changes needed to ensure a future for Kilkenny and all our people".
Kathleen concluded by stating: "If elected I offer to all a commitment to serve them, their families, and their communities, openly and honestly"