30 April 2009 Edition
Markets hoax device condemned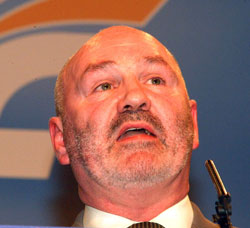 SOUTH Belfast Sinn Féin MLA Alex Maskey has said that the hoax device left in the Markets area of South Belfast on the morning of Thursday, 23 April only served to cause hardship to the local population.
Alex Maskey MLA said:
"The disruption caused by this hoax device serves no purpose other than to disrupt the lives of the local population and shows a total disregard for the local community.
"Those responsible for this are out of touch with the will of the vast majority of the people in this area who have indicated that they want to move forward without this type of disruption.
He concluded, "I want to condemn this incident outright and call on anyone with any information to bring it forward to the PSNI".