30 April 2009 Edition
Another View BY EOIN Ó BROIN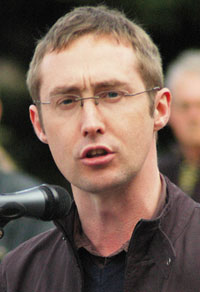 Kissing Dick Roche
CALL me old fashioned but the idea of being kissed by Dick Roche for voting 'Yes' to the Lisbon Treaty just doesn't do it for me. I take my EU politics just a bit more seriously.
Not so the newly formed Generation Yes campaign. Launched last week with catchy slogans like, 'I only kiss boys who say yes' they promised not to take themselves too seriously.
However it looks like they are not taking the rest of us seriously either.
In a section of their web site titled, 'Fight the Lies', Generation Yes state that, 'we promise that our campaign will base all our arguments on the facts, and will reference all our statements.'
Unfortunately the campaign fails to live up to its own promise, and it's only a week old!
In the 'Why Vote Yes' section they give five reasons to support the Lisbon Treaty, none of which are facts and none of which are referenced.
Generation Yes says that if Lisbon is passed, 'Ireland will keep its permanent EU Commissioner.'
The fact is that Lisbon removes all member states' automatic right to a Commissioner. Only a change to the text of the Lisbon Treaty can alter that.
Generation Yes says that with Lisbon, 'The EU will become more democratic... Your directly elected representatives in the European Parliament will have greater weight in EU decision-making...'
This is not a fact but an opinion and a pretty poor one at that. The changes in the powers to the European Parliament are part of a package of changes affecting the Council and Commission. The combined effect of these changes is less power for smaller member states and less democracy all-round.
Generation Yes claim that with Lisbon, 'The EU can effectively fight drug smugglers and human traffickers, who are currently destroying thousands of lives in Ireland.'
Of course the Irish government has opted out of many of the criminal justice sections of the Treaty, but such detail seems unimportant to the boys and girls at Generation Yes.
One of the campaign's most bizarre claims is that Lisbon provides, 'Our best chance for an economic recovery: Ireland can't fight global economic forces on its own, in this financial storm the EU is Ireland's safe harbour.'
Not only is this not a fact, but an argument filled with holes so big you could pass a copy of the Lisbon Treaty through them.
Since 1990 the EU has actively promoted a right wing economic agenda, promoting liberalisation and deregulation the effects of which have been the undermining of workers' rights and public services. Crucially these policies have also reduced the number of policy options available to governments in times of recession.
The Lisbon Treaty contains more of these same right wing economic policies and if passed will make it even harder to respond effectively to the current economic crisis.
However the most outlandish and untruthful claim made by Generation Yes is that, 'Lisbon mandates the EU to invest in thousands of green energy jobs and effectively fight climate change.' Hardly surprising that it's not backed up with a reference.
Generation Yes is a good idea. Anything that promotes youth engagement with domestic and EU politics is to be welcomed. But like the Yes Campaign during the referendum Generation Yes seem pretty confused about the content of the Treaty. Maybe they haven't read it.

An Phoblacht Magazine
AN PHOBLACHT MAGAZINE:
Don't miss your chance to get the second edition of the 2019 magazine, published to coincide with Easter Week
This special edition which focuses on Irish Unity, features articles by Pearse Doherty, Dr Thomas Paul and Martina Anderson.
Pearse sets out the argument for an United Ireland Economy whilst Pat Sheehan makes the case for a universally free all-island health service.
Other articles include, 'Ceist teanga in Éirinn Aontaithe', 'Getting to a new Ireland' and 'Ireland 1918-22: The people's revolution'.