23 April 2009 Edition
Opposition to cuts for community-based Irish-language groups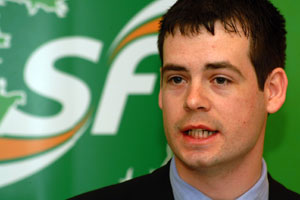 SINN FÉIN Senator Pearse Doherty has called on Foras na Gaeilge not to impose cuts on community-based Irish-language groups. He reiterated a call on the Government not to cut funding for the cross-border institution set up under the Good Friday Agreement, Foras na Gaeilge.
And the Donegal-based senator reminded the government that the cross border language body is already operating below the capacity that was envisaged for it.
"While I accept that both the public sector and the private sector are both suffering from the restraints arising from global economic difficulties I am calling for the Government to ring-fence the funding that Foras na Gaeilge receives as it is already below what is required to fund community-based Irish-language projects and organisations. On account of the financial limitations it has had, many worthwhile projects have since gone unfunded.
"Since it was established, Foras na Gaeilge has never been allowed to attain its full quota of staff. It is currently some 20 staff short of the 65 envisaged to ensure its efficient and effective operation.
"Any cutbacks to the body will severely undermine the state's ability to deliver its hopes for the Irish language under the 2028 plan and will lead to jobs losses in the Foras-funded Irish-language organisations delivering community Irish-language projects (a wide range at national and community level, within education, business and tourism sectors), which are already struggling with funding shortfalls.
"Still a relatively young body, I want Foras na Gaeilge and therefore Irish-language organisations to be protected from the cutbacks as further restraints on it will severely undermine its ability to deliver to the Irish-speaking community."