9 April 2009 Edition
Community stands behind sacked Visteon workers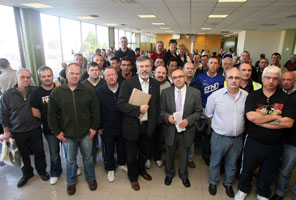 BY EMMA CLANCY

Hundreds of people joined a march in Belfast on Wednesday, 8 April in support of the 210 Visteon workers sacked on 31 May. The staff, who had been employed by US motoring giant Ford until it set up spin-off company Visteon in 2000, were entering their second week occupying the west Belfast car parts factory site in protest at the companies' breach of redundancy terms.
Speaking to An Phoblacht, Sinn Féin west Belfast MLA Jennifer McCann, who addressed Wednesday's community rally, said: "The workers have said they are very much heartened by the outpouring of solidarity from the west Belfast community and beyond since they began their fight to defend their basic rights and legal entitlements."
When Ford spun the parts manufacturing operation off into a new company, called Visteon UK, in 2000, the workers were guaranteed "lifetime protection" – that their pay and conditions would "mirror" those they worked under at Ford under their new employment contracts with Visteon.
But instead of getting the agreed 90 days' notice for the redundancies, the workers got five minutes. While they are entitled to a minimum of 12 to 18 months wages as a redundancy payment plus pension in the event of a plant's closure, the workers have now been told they can only claim statutory redundancy of about £9,000 pounds, and Visteon claims its pension fund is £150 million in deficit.
On the same day that Visteon sacked its Belfast workforce, it also fired hundreds of workers at two of its plants in England. After seeing the Belfast sit-in on the news, the workers in Enfield, north London and Basildon, Essex, organised occupations and protests at their factory sites.
Workers from Waterford Crystal, who began a seven-week occupation of their factory to save jobs in January, donated €5,000 to the west Belfast workers.
Local representatives, trade unionists and the broader community have supported the west Belfast workers by bringing food and supplies and joining hundreds of people in a family fun day in solidarity on Sunday. Speaking at the fun day, MLA and MP for west Belfast Gerry Adams said: "Ford cannot be allowed to renege on its responsibilities to the Visteon workers. Workers' rights must be protected.
"Sinn Féin is committed to pursuing this issue. We will stand shoulder to shoulder with the Visteon workers until they are treated properly."
Adams has argued the workers' case with John Fleming, chief executive of Ford Europe, and the New York City Comptroller's office, which has investments in Ford.

Ford's
obligations
Administrators KMPG said it had been "assured" by Ford that the auto giant had "no liability" to the Visteon UK staff and that Ford and Visteon are two separate legal entities.
But a legal document signed by Ford and Visteon management and union representatives in January 2000, supplied to An Phoblacht by Visteon staff, states:  "Accrued seniority and all existing terms and conditions, in particular pension entitlements, will be transferred to the new employment contracts. For the duration of their employment, terms and conditions of existing Ford employees, who transfer ... will mirror Ford conditions (lifetime protection)."
A questions and answers document circulated to staff in 2000 said: "For the duration of your employment with Visteon UK, your terms and conditions . . . will mirror Ford conditions."
A confidential internal Visteon document called Project Protea from May 21 2007 outlines the plan to shut down the Belfast plant.
"Belfast's financial performance is impaired by uncompetitive labour costs," the document says. Visteon's strategy was to: "Develop duplicate sources for all the Belfast product lines by the end of 2007 .... Minimise information leaks by creating isolated project teams.... and engage Ford for assistance in transferring products to new locations."
Many workers believe that after setting up Visteon UK as a "separate" company – which only made parts for Ford – the plants have been run into the ground, allowing Ford to set up shop or expand in states with lower wages while reneging on its obligations to its workforce here.
In 2007 another company was set up, Visteon Engineering Services, which 400 mainly engineering and administrative staff were transferred to from Visteon UK. Conveniently, most of the management of Visteon UK transferred their pensions into this new company, which has not been affected by the demise of Visteon UK and continues to trade.
Meanwhile, Visteon Corporation chief executive Donald J Stebbins took home US$1.48 million in cash and bonuses last year. The relationship between the web of companies around Ford and  records of their financial dealings with each other are not available publicly.
Derek Simpson, Unite's joint general secretary, said: "I am convinced that Ford have a moral obligation to these workers who have been cruelly laid off with only a few minutes' notice. Visteon have a contractual obligation, as well as a moral obligation to these workers."
Unite is meeting Ford managers in New York on Wednesday for discussions about the redundancy terms. Union leaders said if the outcome of the talks is not satisfactory, the sit-in will continue.
Sinn Féin MLA Jennifer McCann addresses Wednesday's rally in support of Visteon workers