2 April 2009 Edition
Ógra Shinn Féin Campaign On Equality For the Easter Lily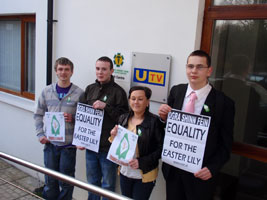 ÓGRA Shinn Féin in Derry have called for equality for the Easter Lily at broadcast organisations UTV and the BBC in the city.
After they handed in letters to both broadcasters' HQs in the Maiden City, Aoife McNaught, the chair of Ógra Shinn Féin Na Fianna Martyrs Cumman, Doire, said:
"Today we held protests outside the UTV and BBC offices in Derry calling on them to give the same equality to the Easter Lily as is given to the Poppy in November. We are calling on both media outlets to allow their employees to wear the Easter Lily which is currently banned within the workplace.
"We will be taking to the streets of Derry in the weeks up to Easter to promote the wearing of the Lily and we are also asking people to take time to sign our petition calling for equality for the Easter Lily within the workplace and at schools."