2 April 2009 Edition
Sharkey brings jobs plan to unions in Laois/Offaly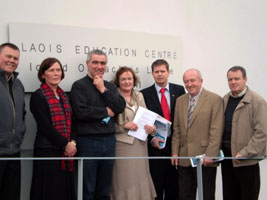 ONE of Sinn Féin's EU candidates for Ireland East, Tomás Sharkey, held a series of meetings with trade unionists in Laois and Offaly last week to launch the party's policy document on job retention and creation. He was accompanied by local Sinn Féin representatives Alan Hand and Cllr Brian Stanley.
Speaking after a meeting with representatives of the three teachers' unions – TUI, ASTI and INTO – Sharkey said he was happy that the policy is based on fact, realistic and focused on getting Ireland back to work.
Tomás Sharkey is an Irish teacher and has emphasised the importance of education in rebuilding our economy.
"Everybody knows that it costs more to rent a prefab than to build a proper classroom. Prefabs are expensive to heat and light. They are not a good learning environment. By building every classroom and school that is needed we can improve education, save money and create construction jobs. Building classrooms keeps builders, carpenters and electricians in jobs and benefits society," he said.
"Instead of increasing the pupil-teacher ratio we should be making classes smaller. Many bright young teachers are due to leave college this summer with no jobs to go to. It makes no sense to have them on the dole while there is a lot of work to be done in our classrooms."

TRAINING
Sharkey also placed emphasis on training in marketing skills.
"Only one quarter of sales staff in Ireland have a formal qualification in marketing. We need to fix this quickly. We need to invest in training our workers in going across the world and selling the unique products that we produce."
Alan Hand, a member of SIPTU, spoke of  the many local campaigns to 'Buy Irish' and said that he wants this to transfer into the business community.
"Of course people should be buying from Irish companies. This makes sense to everybody. There is a natural extension to this campaign. Foreign-owned businesses in Ireland import 86 per cent of their materials from other countries. I want a 'Buy Local' campaign to be reciprocated by the business community with a 'Source Locally' campaign," Alan Hand said.
Bandon picket for jobs
Pictured at a recent picket in Bandon, County Cork to highlight spiralling unemployment and Sinn Féin's proposals for action on the issue are members of Clonakilty Sinn Féin including Cllr Paul Hayes and Cllr Cionnaith Ó Súilleabháin.