2 April 2009 Edition
Sinn Féin solidarity with protesting workers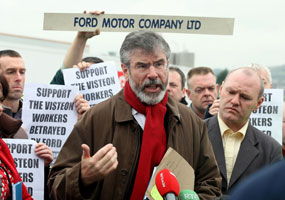 Belfast car plant occupied
TRADE UNION leaders say workers will occupy the Visteon car parts factory in Belfast until they can reach agreement over terms of redundancy. On Tuesday, the company announced the closure of the plant with the loss of more than 200 jobs.
Davy McMurray, from the Unite trade union, said the way the job cuts were announced was "brutal".
"The administrators came in, took a meeting of the workforce and told them their employment was terminated."
McMurray said that because the company is in administration the workers will get only statutory redundancy payments.
Visteon took over the former Ford plant in Belfast in 2000.
Sinn Féin President and West Belfast MP Gerry Adams has expressed his deep disappointment at news of the closure.

ADAMS VISITS PLANT
On Wednesday Adams and party colleagues Jennifer McCann MLA and Paul Maskey MLA visited the Visteon Plant. The Sinn Féin group met with the trade union leadership in the plant and with the workforce. The three Sinn Féin politicians were joined by Lisburn DUP MLA Edwin Poots for a meeting with the administrator.
Speaking after the meeting Gerry Adams made clear Sinn Féin's support for the workforce and his anger at the "shabby treatment of workers by Ford and Visteon".
Adams said:
"Sinn Féin has been involved with the Trade Union leadership at Visteon and with the workforce over recent years in an ongoing effort to keep the factory open.
"Our objective has been to retain jobs at the plant. It is easier to retain jobs than to create new ones.
"I have also spoken to senior Visteon and Ford managers about this and I have been in touch with the New York City Comptroller's office which has millions of dollars of pension funds invested in Ford.
"I believe that Ford has a responsibility to the workforce and that it has thus far dealt with a loyal worker force in a most disloyal and shabby manner.

FORD MUST DO THE RIGHT THING
"Ford must do the right thing. It must stand by its moral and contractual obligations to the workers. It has a duty to ensure that workers, who have given loyal service, receive their full rights and entitlements.
"I am also concerned at the role of Invest NI and whether it alerted the Minister to the seriousness of this situation. I also want to know what it was prepared to do to secure the future viability of this plant and of the 200 jobs here.
 "My colleagues Paul Maskey and Jennifer McCann and Sue Ramsay have already been in touch with the Department seeking an urgent meeting with the Minister, Arlene Foster.
"It is also crucial that every effort is made to ensure that the skills resource is not lost and that these workers are not abandoned to the dole queue. We intend raising this matter with Reg Empey at the Department of Learning.
Chairperson of Belfast Sinn Féin Bobby Storey was among a group of party activists who delivered food to workers occupying the Visteon plant at Finaghy on the outskirts of West Belfast on Wednesday