2 April 2009 Edition
Freeze on public service jobs as talks begin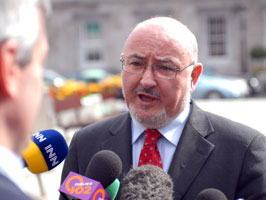 A GOVERNMENT embargo in the 26 Counties has been placed on filling jobs in hospitals, schools and Garda stations and looks set to be in place until early next year.
All Government departments have been issued with a letter from the Department of Finance following a Cabinet decision made over the weekend ordering a ban on promotions, awards of new allowances and performance-related bonuses for senior public sector workers.
Minister of Finance Brian Lenihan said the move is an effort to make savings in the public sector.
No more teaching positions will be filled from September 2009 and, in other public sector areas, if vacancies arise they will be filled through the redeployment of staff from within.
Trade unions believe that up to 20,000 health sector posts will be left vacant as a result of the move, with 14,000 temporary employment contracts at stake. Liam Doran, General Secretary of the Irish Nurses' Organisation, has asked that this possibility be discussed during the upcoming social partnership talks.
IMPACT, the largest union in the health sector, has said that health services will be "devastated" if temporary employees are let go.
STRIKE DEFERRED
The trade unions agreed to go into social partnership talks after "deferring" a state-wide strike that was scheduled for last Monday.
The trade unions are believed to be drafting a document based on the Irish Congress of Trade Unions' 10-point plan for economic recovery to submit to Government in effort to stem the rising tide of job losses. As part of the proposals, trade unions are seeking the introduction of a 48 per cent taxation rate and a new property tax on second homes, Government commitments to set aside €1 billion for job rendition, pension protection commitments, and Government raises in borrowing.
During an exchange in the Dáil, Sinn Féin's parliamentary leader, Deputy Caoimhghín Ó Caoláin directly questioned Taoiseach Brian Cowen's views on the 10-point plan which he had indicated support for.
Deputy Ó Caoláin called on the Taoiseach to be specific with regard to the elements within the 10-point plan where he saw potential for progress on.
The Cavan/Monaghan TD asked if the Taoiseach would ditch the pension levy; guarantee incomes of 80 per cent of salary; introduce three-year moratoriums on house repossessions and replace bank executives who played a direct role in the collapse of the banking system.
The Taoiseach replied that "in welcoming contributions to a process of discussion, one does not, by that token, provide prior agreement". The Sinn Féin Dáil leader then pressed Brian Cowen:
"What steps has the Taoiseach taken to address what is now a growing resource within our economy, that is the some 100,000 additional people out of work, many of whom are qualified in the professions, who are highly trained in their respective trade or in employment over many years and are now in receipt of Job Seeker's Allowance?"
The Taoiseach did not answer. Instead, he stated that he had partly addressed the public finances through the imposition of the pension levy.