26 March 2009 Edition
Top NIO man indicts 'intransigent' Thatcher's handling of 1981 Hunger Strike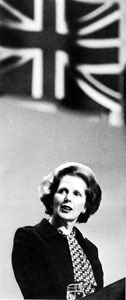 AN INTERVIEW published exclusively on the Bobby Sands Trust website indicts the British Government over its handling of the 1981 Hunger Strike in which 10 republican prisoners died.
The transcript of the interview given by Sir John Blelloch, a senior member of British Intelligence who was seconded to the Northern Ireland Office, "clearly exposes the intransigent mindset of the British to the hunger-striking prisoners", according to former Sinn Féin Director of Publicity Danny Morrison, who was a key figure during the Hunger Strike period.
And, maintains Morrison, now secretary of the Bobby Sands Trust, the Blelloch interview shows that then British Prime Minister Margaret Thatcher's government was only interested in getting the prisoners to end their fast in defeat rather than find a solution.

Blelloch was clear in stating that Margaret Thatcher was unwilling to move on any of the prisoners' demands and that any proposed deal was solely intended to give the inmates a chance to come off the fast.
"What is most illuminating," says Morrison, "is the section of the interview which deals with the period surrounding the death of the fifth Hunger Striker to die, Joe McDonnell, in July 1981."
This was one of the most contentious periods of the Hunger Strike 

This was one of the most contentious periods of the Hunger Strike and in his September 1986 interview with the author of Biting at the Grave, Pádraig O'Malley, professor at the University of Massachusetts, Blelloch talks about the delay by the British Government in getting a deal to the prisoners which could have ended the fast without further loss of life.
"The problem as always," Blelloch says, "was seeing whether we could find some fresh statement of the [British] Government's position which abided by our principal objectives which we adhered to throughout the Hunger Strike but nevertheless constituted some sort of opportunity for the prisoners to come off it.
"As far as I remember, the delay on that was actually getting final agreement to the text of what might be said, which was not easy, and in the event McDonnell died before that process could be completed and, of course, thereafter it collapsed."
It was during this period that the Irish Commission for Justice and Peace were attempting to find a solution to the Hunger Strike. Blelloch's remarks reveal that instead of dealing with them in good faith the British were attempting to find a form of words that would satisfy the ICJP that the British were indeed sincere about resolving the impasse.
"There was absolutely no change in the [British] Government's position on why it stood where it was, what was available to the prisoners and, insofar as one could say this in advance, what would happen as the protest ended. That position remained, in all material respects, unchanged," states the MI5 man.
Blelloch, now retired and living in England, was seconded to the Northern Ireland Office during the first and second Hunger Strikes (1980 and 1981) before transferring back to the Ministry of Defence. (He would later serve as Permanent Under Secretary at the NIO until 1990.)
The transcript of Blelloch's interview was published on the Bobby Sands Trust website (www.bobbysandstrust.com) last week, after coming into Danny Morrison's possession.
"Obviously," says Morrison, "this interview tells us that the British brought a mentality to their handling of the Hunger Strike that sought defeat of the prisoners. A just solution was never on the cards."
 'This interview tells us that the British mentality sought only defeat of the prisoners'– Danny Morrison