26 March 2009 Edition
Sinn Féin launches jobs plan: Getting Ireland Back to Work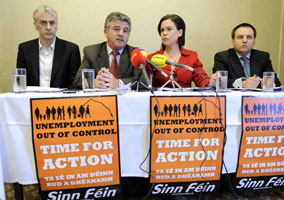 BY ELLA O'DWYER
AS Establishment parties' TDs sat across the road in the Dáil on Monday, in Buswell's Hotel, Sinn Féin was briefing the media on its jobs strategy document, Getting Ireland back to Work.
Presenting the document and giving answers to questions from journalists and columnists on the party's proposals were Sinn Féin Vice-President Mary Lou McDonald MEP, Economy spokesperson Arthur Morgan TD, IntertradeIreland board member Cllr Pádraig Mac Lochlainn, and Sinn Féin policy researcher Robbie Smyth.
savings and public finances
Mary Lou McDonald opened by announcing that the launch of "a very comprehensive and costed document on job retention and job creation" would be followed later in the week with proposals in relation to savings and public finances.
"We have very specifically chosen to kick off with a deliberate focus on jobs," the Dublin MEP said, "and we've done that because in January and February past 1,000 people lost their jobs every day.
"Over the last 12 months we lost nearly 185,000 jobs and I don't think it's an exaggeration to say that we have a jobs crisis.
"The Government persists with a strategy that is exclusively focused on cuts when what we need to do is stimulate the economy. To keep people at work we need to create new work and boost consumer confidence. We need to keep the wheels of the real economy turning."
Mary Lou McDonald pointed out that, as a result of increased unemployment, tax revenue in the 26 Counties is now €2bn below estimate and spending in the area of welfare and medical cards is €1.5bn over budget.
"We need taxation reform, we need efficiency in public spending and we need to root out wastage, but the number one priority must be on retaining, protecting and creating work."
Arthur Morgan TD pointed out that Sinn Féin has for a long time been talking about the need for saving and creating jobs and went on to outline the party's proposals for addressing the difficulties facing the small and medium business sector.
"We propose establishing a €300m jobs retention fund to subsidise the small and medium enterprise sector. We want an intervention for viable SMEs who are finding it very difficult to maintain their level of employment to give them 20 per cent of their wages or €200 to maintain their current number of employees. There is a potential here to maintain 19,000 jobs over a six-month period. After all, it's easier to save jobs than to make them."
Pádraig Mac Lochlainn sits on the board of IntertradeIreland, an all-Ireland development body.
"Right now," he said, "we are very focused on the need to intervene with businesses across the island. It's clear from surveys of businesses that what is required is the breaking down of bureaucracy in terms of the quagmire of enterprise agencies out there.
"There needs to be a one-stop shop. There needs to be a place where businesses of all sizes can access the necessary expertise and assistance."
On the bail-out of the banks, he said:
"We've invested €7bn into the two main high street banks, AIB and Bank of Ireland, but we do not see that finance being released into small businesses out there in the system and we need to see that pragmatic intervention."
BROADBAND
Policy researcher Robbie Smyth talked about the proposal to fast-track some of the funding already allocated to long-term projects like the roll-out of broadband.
"In the case of broadband we're saying fast-track some of the funding for that and spend it now.
"The money say that's allocated for getting broadband into schools by 2013 could be spent by 2011."