26 March 2009 Edition
Trade unionists speak at Sinn Féin rally to save jobs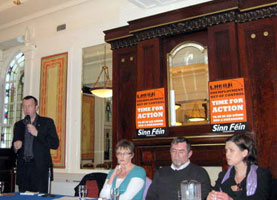 BY ELLA O'DWYER & BRENDAN KERR
THE NEED to save existing jobs and create new jobs is at the heart of Sinn Féin's key public awareness campaign on employment and last week saw a public meeting held in Dublin under the slogan "Unemployment Out of Control – Time for Action." The meeting took place ahead of this week's launch of Sinn Féin's job retention and creation strategy, Getting Ireland Back to Work.
Platform speakers alongside Sinn Féin MEP Mary Lou McDonald were Brendan Ogle, Regional Organiser of Unite the Union, one of the biggest trade unions in Ireland and Britain; and Matt McCormack, an engineer with threatened Dublin Airport aircraft maintenance firm SR Technics, where 1,135 workers face losing their jobs on 31 March.
We've allowed ourselves to be frenzied by the media about whether the private sector or the public sector are to blame for the current financial crisis when we all know it's the banks who are to blame
– Brendan Ogle, Unite the Union
Unite's Brendan Ogle urged workers to beware of the media's role in transforming the economic and jobs crisis into a conflict between workers in the public sector one one hand and the private sector on the other.
"We've allowed ourselves to be frenzied by the media about whether the private sector or the public sector are to blame for the current financial crisis when we all know it's the banks who are to blame. But we've allowed ourselves to be whipped into this public versus private debate."
Brendan Ogle said that people need leadership.
"People are just sick and tired now of a government with no ideas. But it's not enough for me to come along here for 10 or 15 minutes whingeing about a government with no ideas and how it's all their fault. We all have to put our shoulder to the wheel in terms of creating ideas, assessing what's gone wrong and how we might fix it."
Brendan Ogle said that he doesn't accept the claims that there is "no money in Ireland" and said that closing tax loopholes for the wealthy would not only be symbolic but also practical, he said to loud applause from the packed room at Wynn's Hotel.
"We could close some of these tax loopholes even though [RTÉ Radio star] Gerry Ryan and people like him tell us sure that won't solve the problem. They're right but look at the symbolism of it; the symbolism of closing tax loopholes of the rich while working people are losing jobs would encourage us all to put our shoulders to the wheel. So symbolism is very important and we really need to close those tax loopholes."
And the trade union leader empathised with the small business sector in the current financial climate and cited electricity costs as one of those pressures.
"We need to stop believing in some of the unjustified pressures on businesses, particularly small businesses."
SR Technics (SRT) engineer Mat McCormack gave an impassioned account of the predicament of SRT employees like himself  who are facing redundancy at the end of this month.
SR Technics, formerly Team Aer Lingus, was bought in 2006 from its Swiss owners by a Dubai consortium led by Mubadala, the investment vehicle of the Government of the Emirate of Abu Dhabi, in the United Arab Emirates. On 12 February this year, SR Technics – which describes itself as "one of the world's leading providers of technical solutions to airlines"  – announced it is closing, throwing more than eleven hundred highly-skilled workers on the dole.
"The workers at SRT have done everything asked of them in terms of trying keep profits levels up," Matt McCormack said.
"We were asked to take a wage freeze and we did.
"We were told to change shifts and we did that.
"We were told to work Saturdays and we did, and then Sunday work was introduced.
"Our meal allowance was taken away – they  took the bread out of our mouths and they practically asked us to butter it!"
Another difficulty for workers is that they have to show six months' work experience on each type of aircraft they want a licence for. "So when we're out of work and our licences expire, how are we going to get them renewed? I'll either have to go away to somewhere like the Gulf to get the required six months' work or lose my licence."
For an aircraft maintenance company like SRT to get a licence to operate, the company has to have a certain number of trained engineers, Matt McCormack pointed out. "And that won't happen if we're let go and that inevitably leads to a loss of revenue for the government.
"With the loss of Dell and Waterford Crystal, the country can't afford to lose another big company like ours."
Dublin MEP Mary Lou McDonald looked at the domestic factors that make the economic debacle in this country more severe than in other places and honed in on the absolute necessity of saving and creating jobs.
"Whilst there is an international dimension to the crisis we're in," she said, "the fact is that domestic decisions that were taken here in Dublin by people who clearly do not have the public interest at heart, people who cannot see beyond the politics of greed and acquisition."
The politics of mé féin has meant that the crisis in this state is much deeper than elsewhere, she said.
"The Government's response to the crisis we're in has been knee-jerk and piecemeal. I think we're looking at an administration that is caught like a rabbit in the headlights – it really doesn't know what to do."
But Sinn Féin isn't gloating over the inadequacy of its political opponents in Fianna Fáil and the Green Party in power.
 With the loss of Dell and Waterford Crystal, the country can't afford to lose another big company like SR Technics
– SR Technics engineer Matt McCormack
"We don't have the luxury of simple opposition politics – a sort of  Punch and Judy approach to political debate.  That's not good enough either because we're in big, big trouble. If we allow an administration that is about cutting and cutting where it hurts, cutting the most vulnerable, then we are going to move from difficulties into disaster."
The reason behind Sinn Féin's public meetings and street activities, the Sinn Féin vice-president said, "is to start getting the politics out there and the demand that the government move away from cuts because they can't cut their way out of this crisis".
She urged trade union, community and political activists to step up their public campaigning and get the message out to people on the streets, in their workplaces and in their homes "because we need to move them onto the big debate of the day which is about jobs – how to save jobs and to create jobs. Because the bottom line is that we need to keep the wheels of the economy moving."